This weekend sees the hotly contested county final in recent memory. Oulart, the dominant, stylish force that has dominated Wexford hurling for an age, face the rising tide of St Martins. This has been a battle marked in most peoples calendar since the turn of the year and was made even more mouth-watering after the opening day battle in Bellefield.
__
Possible Line-Ups: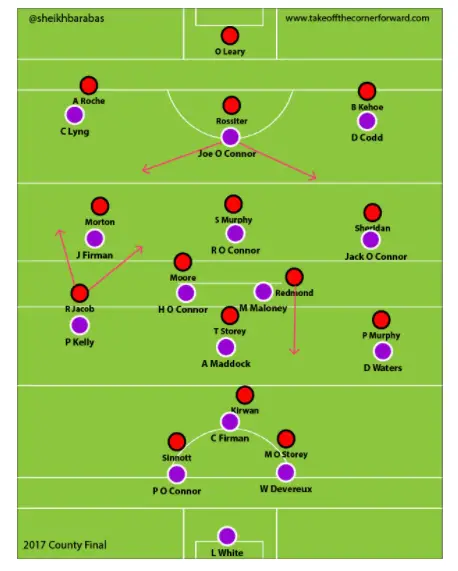 Above is my guess at how both teams will set up. Two very different styles of teams, two serious line-ups.
__
Oulart's Defence v Martin's Attack:
Watching Oulart play the Rapparees in the semi-final was like watching Oulart any time under Frank Flannery. They possess a consistent, smart game plan that has annihilated dozens of teams over the past number of seasons. Flannery works on the basis of a strong, solid defence. Like a boa constrictor, they tighten slowly as the game goes on, making space to attack like gold dust.
Q1 – How will Oulart deal with St Martins movement and maintain their tight defensive shape?
Oulart will look to try and hold a tight back eight on Sunday but they face a St.Martin's attack that is based on pace and movement. The Rapparees offered a similar level of pace in attack in the semi-final but their movement was nothing like St Martins. Joe O Connor at full forward won't stand still to be marked and will try and drag the Oulart backs out causing confusion, this caused Benny Travers, a quality full-back, and Gorey a serious headache.
St Martins have serious movement work done under Charlie Carter, they cluster and then explode out to confuse backs. Their natural movement is out the field, leaving few inside the full-back area, somewhere Keith Rossiter is most comfortable. Can Oulart follow and allow inside space?  Will the young legs of St Martins be punishing?
Q2 – How will St Martins cope if Rory O Connor doesn't score?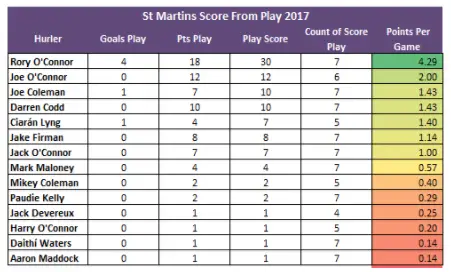 Above shows the scoring from play of the Martins team in 2017. Clearly, Rory O Connor is their star performer. Joe O Connor has had a quietly impressive year but Tomas Codd has been scratching his head over his best forward line. St Martins are generating but not converting a large number of shots. What's most telling is the distance from goal of these shots – St Martins do not possess an inside line that gets goals. With 6 goals from 7 games, St Martins are a 3-point shooting team in NBA terms.
Jack O Connor has been airlifted into the attack to try to offer a better inside threat but despite trying many various players (all with huge potential), St Martins do not have a forward line that scores freely. I would nearly argue that St Martins forwards are more comfortable tackling and pressing, where they excel. If Rory O Connor was to be shut-down by Oulart then this question will need to be answered. Frank Flannery will have one key defensive plan – Stop Rory!
__
Martins Defence V Oulart Attack
In attack, Oulart have the one-man-force that is Garrett Sinnott, the best club hurler in Wexford for quite a while. Paddy O Connor was red-carded for dragging him down in the first game and Oulart will sure look to test out the Martins full-back line. Sinnott catches high balls for fun and has quick hands to involve Kirwan.
Q3 – Will Oulart get quality ball into Sinnott?
Where I see a major deciding factor is in how Oulart get the ball into Sinnott. St Martins forwards and midfield are extremely hard working. Led by Jake Firman and Mark Maloney they show incredible energy in shutting down quality clearances. The Oulart half-back line and midfield (including Rory Jacob) will be put under immense pressure. In the semi-final, Conor McDonald was starved of quality ball as St Martins found the best way to stop a threat is a source.
Oulart are no rabbits in the headlights, they are smart, skilful and experienced. St Martin's pressing should be something they are capable of handling. This will be an intriguing part of the final.
Q4 – How hard will Dessie Mythen's rumoured absence affect Oulart?
With Sinnott inside causing havoc many centre-backs have been, understandably, sucked back into helping the full-back. This has given Oulart their second threat – Dessie Mythen. One of the smartest hurlers at finding space and exploiting it, Mythen has scored heavily this year (see below).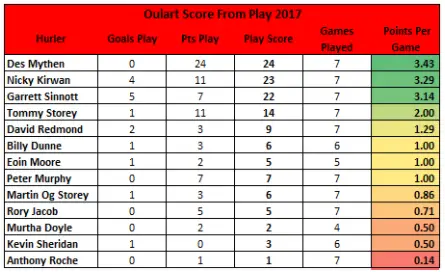 After apparently picking up a knee injury in the semi-final there are many reports saying he will miss the final. How Oulart adapt will be crucial. Oulart will need to exploit any space allowed by St Martins covering Sinnott. David Redmond and Tommy Storey are capable of scoring from range but Dessie Mythen's movement will be largely missed. 

__
How I See it Going:
I think this will be a tight match of a very high standard. I don't think the bookie's odds are fair, Oulart are currently strong favourites but I think this game is hard to call. On one side Oulart have been there and done it  – and probably have a mindset of shutting up the voices that say they are old and fading. On the other side, St Martins bring an energy and physicality that Oulart haven't faced in Wexford too often.
I think for St Martins to win they'll need to penetrate the Oulart defence with goals. Only driving daggers into the Oulart stronghold will be enough. But I haven't seen enough of this from St Martins this year, they win with jabs from distance, not power punches. This makes me sway for Oulart to shade it, but only just. Wexford club hurling is clearly rising in standard, this game should show it at it's very best. Let's hope it's a classic.
_____
Barry Cleary 
Twitter: @sheikhbarabas 
Blog: http://takeoffthecornerforward.com/