Even though Matthew O'Hanlon is aged just 26, he's also a veteran on the Wexford Senior Hurling team.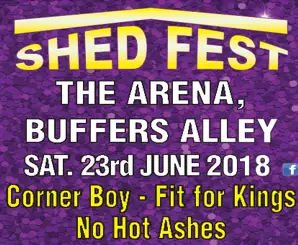 Speaking to Cian Murphy, the St James' defender believes the Model County are now in a better place than ever under Davy Fitzgerald:
"The biggest impact was getting to Division 1A and reaching a Leinster final."

"They are the two big wins we have had so far, but in saying that, we are conscious of the fact we need to build on that and that we are contending for honours consistently and hopefully make the breakthrough at some stage this year."
Wexford have failed to attain silverware in the Leinster Championship since 2004 – but O'Hanlon ensures that even though the players and management are taking it one step at a time, they're also in it to win it:
"You play to win and everyone on the intercounty panel for Wexford wants to win – whatever that may be – and you only have a certain amount of opportunities to do that in a given season so you can't take anything for granted."

"We are conscious we've got proabbly the strongest ever Wexford panel that I have been involved with and we are in contention to win something. It starts in the first round against Dublin and if we don't get over that there is not talk of winning anything."

"It is really the way we have to take it – especially with the way the championship is this year and we are looking forward to it."
For sure, there's a belief there and Davy Fitzgerald is one man who has re-instilled that belief into the current set-up:
"Davy is a fantastic manager. I think the big results last season have given us the belief and self-confidence that we can win any game and we have shown time and time again that even when we are not in a game, that we can find a way to win and that is huge in terms of belief."
Matt O'Hanlon is injured at the moment, being forced to sit out the opening round of club championship with St James.
However, the joint-Wexford captain has indicated that he'll be back in time for the opening round of the Leinster Championship versus Dublin.
That game will be played on May 20 in Wexford Park, and there's no doubt that both counties will enter that game viewing it as a must-win.
Tickets to the Leinster Championship game can be bought online here.