In a refreshingly honest article with new sports publisher The Sports Chronicle, Wexford hurler Lee Chin reflects on his 'professional' life, his motivations and the notable changes of his mindset.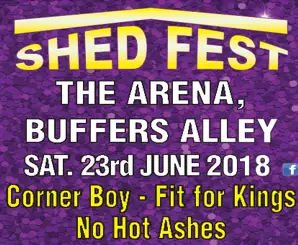 In the article, Chin rubbishes the myth that he's the GAA's first professional hurler. He's working as a brand ambassador, travelling to Dublin two or three times per week for promotional activity with different campaigns.
While he doesn't work a forty-hour-per-week job, he's still working. But, at the same time, he insists he's putting his hurling first. He's doing this to better himself; putting his life on hold to succeed in a sport – and to reach, and peak at the highest levels.
"Nowadays I'm just striving to be the best version of me. I want to finish hurling, many years from now, knowing I contributed to Wexford winning X All-Irelands."

"If X is one, fine, but I refuse to put a limit on our potential, I refuse to put a limit on my talent."

"The next step is tangible success. It might sound ludicrous to people not keeping a close eye on Wexford hurling (and to some who are) but we don't just want to win the All-Ireland some day, we believe it is within our reach in 2018."

"Yes, we know the holy grail has been missing since 1996. I was three years old when Liam MacCarthy last journeyed down the M11 but I remember the residue of that achievement. Wexford hurling people have to keep hold of those memories, and rightly so. We, the players, have to go give them something new to fill up with pride."
One story from his article with The Sports Chronicle is a story relating to his attitude with the inter-county hurlers in 2012. He was playing and was becoming a key member of the panel, yet, he didn't believe that Wexford team in 2012 was capable of winning an All-Ireland.
However, the difference between then and his current beliefs is striking:
"We are a young crop of hurlers being coached in a style that makes us capable of winning every time we take the field. Davy knows how to guide a county to an All-Ireland title having done it as a player and manager."

"In some game this summer we will get the chance to move in that direction. Why would I do what I'm doing if I don't think we will get there?"

"In my first season on the panel a sports psychologist sat each of us down. The last question caught me: 'Lee, do you believe Wexford will win the All-Ireland this year?'"

"It was 2012. We weren't at the level of Kilkenny, Galway, Tipperary."

"'No,' I responded honestly."

"Walking out of the room I wondered if I should have lied. It was already my ultimate goal and I was willing to push myself to achieve it, but I was being realistic. We weren't ready."

"I used to hope we would do it. Recently I started asking new questions: Why not this year? Why can't our time be now?"

"I turned that into my motivation because hope doesn't win the All-Ireland. It will happen when we deserve it and not a second before."
For Lee Chin's full article, check out The Sports Chronicle here.