St Martins' Rory O'Connor has become an integral member of Davy Fitzgerald's aching-for-success Wexford panel.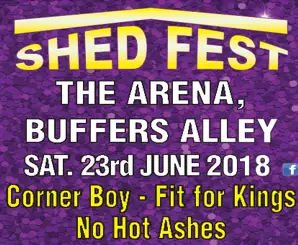 When Davy Fitzgerald last won an All-Ireland with Clare, O'Connor (19) was an u-14 hurler. But, now in 2018, he's playing under him – learning from him, and realising what it takes to compete and win at the highest level.
At this stage, Davy's management style is well broadcasted. He's passionate on the sidelines, he gets the best out of everyone. He's a great one-to-one manager, seeking out the needs, and improvements, of each individual.
"He'd nearly convince a girls' U-10 rugby team that they'd beat the All Blacks!",

"He'd really have you gunning for whoever you're playing.

"He's definitely been very influential. He'll give you little one-on-one tips. He's always focused on the individual player and will always have something different for different players. In that regard, he's very helpful.

"I'd put a lot down to mindset. All of these teams are fairly equivalent when it comes to hurling. It's whoever has the desire and really wants it the most."
Wexford now believe they can win Leinster titles and the All-Ireland titles and a recent article by Lee Chin highlights this. Like Chin, O'Connor realises the Model County are now competitive – and that they have the ability to beat any team on any given day:
"Yeah, it seems to be a possibility now at this stage," O'Connor said to GAA.ie

"For the last couple of years it wasn't, it was very far out of our reach. But now we're up there competing with the likes of Kilkenny and Galway and Dublin.

"But we're only focusing on the first match against Dublin. That will be a massive, massive match."
Like all Wexford supporters, O'Connor is looking forward to the Championship; to the new season, and he reckons the break came at a perfect time ahead of the new 'round-robin' hurling championship.
"It was six or seven weeks on the trot in the League whereas Kilkenny had a week's break coming up to that game because of the snow that would have definitely helped them as being fresh for the semi-final," he said.

"We were a bit flat against Kilkenny. We didn't show up whatsoever. We weren't the team we were throughout the League and it was a little bit disappointing. We let ourselves down and let Wexford down and all the supporters that turned up to Wexford Park that day.

"But things are going very well at the moment again. The break came at a good time for us. It's a different season now, it's championship, and you're going to work on something different and bring something new to it."
For the full article with Rory O'Connor, check out GAA.ie here.