Wexford might be out of contention for silverware in the Leinster Championship, but the hurling year is far from over for Davy Fitzgerald's charges.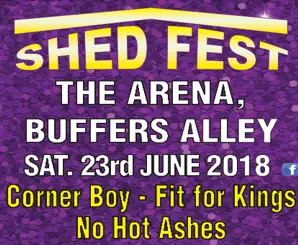 The All-Ireland is All to play for: 
Cork, Clare and Limerick are the three teams moving onto the All-Ireland stages from Munster. A meeting against the opposite side of the draw (the Munster side) was inevitable, but from a Wexford perspective, if we were to pick our preferred choice of opponents at the start of the year, a lot would have avoided Waterford and Tipperary.
Let's be honest, we've struggled against Waterford in the Championship in recent years, while Tipperary always seemed that extra step ahead of us. But now, due to results in the new Munster Championship, Wexford's two most undesirable teams will no longer take part in the All-Ireland series – and we will avoid them! The fact that Waterford and Tipperary are no longer in the All-Ireland series, while Fitzgerald's Model men are, is another clear-cut positive perspective.
However, be under no allusion that the top-three in-form teams from the Munster Championship have made it through to the All-Ireland series in Cork, Clare and Limerick. And just like Wexford would fancy their chances against any of those, the same belief will be felt by the opposition.
In Leinster, you've Kilkenny and Galway competing for silverware, and despite losing to both in the Leinster Championship in recent weeks, Championship hurling will be completely different come July – and another crack at either of them down the line would be a welcomed one.
___
No reported injuries:
Despite playing four weeks of Championship hurling on the trot, it's great news to report that the panel did not suffer any major injury setbacks.
Instead, it's actually the opposite, as Askamore's Shane Tomkins and St Annes' Liam Óg McGovern made their respective returns in the purple and gold.
Rory O'Connor was an injury doubt ahead of the Kilkenny game, but he played – and finished that game – so that injury must be a very little worry.
___
We've found form again…kind of: 
After a dismal performance against Galway the week previous, very little game Wexford a chance heading to Nowlan Park. While the result was hard to take, hindsight is a great thing too. Playing their fourth game on the trot against a Kilkenny side in their home patch, who just had a week off, the Wexford hurlers gave a great account for themselves too.
While it must be noted that we were nine-points up at one stage and that we should have seen the game out, there's plenty of positives to take from our first-half performance against a fully-fit Kilkenny side. Our forwards such as Chin and McDonald were back on the score-sheet, our breaking ball dominance, our tenacity and our team-work were all vivid elements of our game-play.
Not everything went our way. Davy was disgusted with the referee's performance, we missed a lot in the second-half… and ultimately, we did die out of the game, which can be related back to the unjust championship structure placed on Wexford.
Still, the dominant glimpses of form we displayed in the first-half against the Cats in their backyard, serves to highlight the fact that we won't be too far off any of our remaining opponents in the All-Ireland series – and that there's plenty to look forward to.
They refused to let the Galway hammering take its toll, and that was hugely positive.
___
Well-needed break: 
"It'll be a different Championship come July," Fitzgerald continues to state.
And he couldn't be more right.
After four consecutive weeks of championship hurling, Wexford will now earn a much-deserved break ahead of the preliminary All-Ireland quarter-final against Carlow or Westmeath.
That game will take place on the weekend of July 7th/8th, and the break will undoubtedly stand to the players as they prepare for the next championship season.
__