There's a real buzz around the South East ahead of Sunday's Leinster hurling final…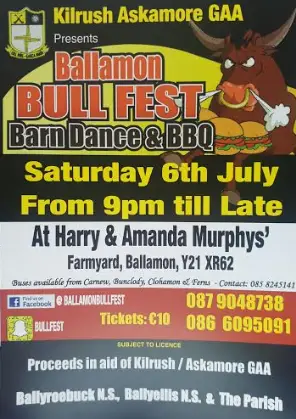 From managers, to players, to selectors to former greats, here's what people are saying ahead of the eagerly-awaited encounter between Kilkenny and Wexford:
"I think for progression for us, we have to maybe win a Leinster or win an All-Ireland Quarter-Final or something like that to show real progress on the last couple of years and I suppose you will be judged on the end of the year how it's gone, not in the middle of the year" – Wexford selector JJ Doyle, speaking to KCLR.

"We have a realistic chance, we have a real chance of winning, of that there is no doubt. The drawn game was massive, the hits went in hard and fast, but we coped. Now can we repeat that? I feel we can and bring it up another level. No doubt Kilkenny will be feeling the same, but we'll just think about ourselves at this time" – Davy Fitzgerald, speaking to South East Radio.

"There is great belief among the players, with a real club feel to the camp. It's that type of belief we have in each other that helped us pull back games that looked gone," said Murphy. Davy has that drilled into us, there is no letting up, fight to the final whistle. That's the type of belief and attitude that has turned around so much for us." – Shaun Murphy, speaking to the Wexford People.

"Matthew did a great job on TJ at Wexford Park. TJ didn't rack up the scores he had been hitting in previous games but that was not purely down to Matthew either, the Wexford defensive unit hurled pretty well. It is a different ball game when you move up to Croke Park. The pitch plays tighter in Wexford Park so things tend to be more congested. As a back, you can maybe get away with a little bit more in those circumstances, whereas up in Croke Park, there is more space and the pulling and dragging is spotted a little bit more" – Brian Hogan, speaking to the Irish Examiner.

"Everyone's opinion is it's going to be a very tight game. Like, a draw the last game. Wexford haven't lost a game all year . I wouldn't be able to call it. I haven't seen any odds with the bookies, but I'd say it'd be very tight." – Dublin's Eoghan O'Donnell, speaking to Dublin Live.

"They did a great job on TJ Reid last time. Obviously, the system they play involves crowding out the middle third, and there is a possibility that TJ mightn't start in the half-forward line. Putting him in the inside line would change things up, but they'll have a man marker like Matthew O'Hanlon, you'd imagine that's how Wexford will approach it." Cork's Donal Og Cusack, speaking on RTE GAA's Podcast.

"The Kilkenny guys, whether they're young or old, they nearly all have an All-Ireland medal in their back pocket and some have five or six or seven. I believe personally that we have the capability of turning Kilkenny over. Just to get a little bit of silverware down this part of the country would be fantastic." – Larry O'Gorman, speaking to RTE.

"I think Wexford would struggle if they went back to 15-on-15, they're so used to the system, are brilliant at playing it. And winning on Sunday would be a massive bonus to either team. I think that's what caught Kilkenny last year, going into the quarter-final, the replay . Win here and you're 70 minutes from an All-Ireland final" – Richie Power, speaking to the Irish Times.

"Davy also brings a level of madness to it that, I think, Wexford people identify with. If you go back to Wexford teams when they've hurled their best, if you go back to the 1997 Leinster final (against Kilkenny) – it was an absolute war zone. It was one of the best contests I've ever seen … and I think Wexford identify with that level of madness. I thought Wexford, two weeks ago against Kilkenny, brought that level of aggression. And Kilkenny respect that. I think that really took Cody's attention, to be honest. And I think he'll be worried going into Sunday." – Malachy Travers, speaking to The Herald.