Wexford's opponents for the upcoming All-Ireland semi-final were confirmed today…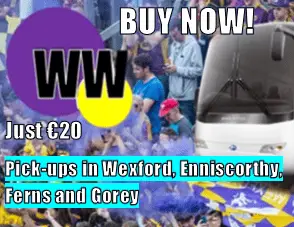 It'll be Liam Sheedy's Tipperary that'll face Wexford's Davy Fitzgerald in Croke Park on July 28th. It'll be a serious test and a thrilling encounter while the athmosphere, like with all Wexford matches, is sure to be palpable.
Speaking to RTE after Tipperary's defeat of Laois in the All-Ireland quarter-final, Sheedy reckons that Wexford will be "raging hot favourites" ahead of their clash.
"We're just delighted to be in an All-Ireland semi-final. That was where we wanted to be at the start of the year. We ended up going the back route. Losing the Munster final did take a little bit out of us mentally. It knocked us back a bit. So, we're delighted to have gotten over that hurdle today. 

"Wexford certainly won't be quaking in their boots with what they've seen out there today. They will be raging hot favourites. But we're exactly where we want to be and are looking forward to coming back here in two weeks time.

"As I said, they'll be raging hot favourites. They played really, really well in the Leinster final. It will be a super crowd. They (Wexford) travel in great numbers. So, we're looking forward to getting the Tipperary support out and getting back in two weeks time," he remarked to RTE.
But despite Tipperary's sometimes shakey performance against Laois and Wexford's impressive performance against Kilkenny, it's not much of a surprise to learn that Sheedy's prediction fell short.
Irish bookmaker PaddyPower tips the Premier County as 1/2 favourites, the draw at 8/1, while the Yellowbellies are underdogs priced at at 2/1.
If you're looking for a bus to Wexford's All-Ireland semi-final, check out Wexford Weekly's Hired Bus to Croke Park, with pick-up points from Wexford, Enniscorthy, Ferns and Gorey for just €20. You can purcahse your WW bus tickets here.