Young Tommy Kinsella grabbed headlines last month after his mother Noirin took to Facebook to highlight a heart-breaking story…
Noirin's son, Tommy, who is now aged seven, was born with a congenital heart defect. Over the Christmas period, his health began to deterioate to the extent that he could no longer attend school and that he must now wear a mask to protect him from the risk of infection.
Tommy was due to have heart surgery, but unfortunately, his case was cancelled, cancelled and cancelled again.
"These cancellations have all been due to the bed shortage at the hospital, emergencies and the general understaffing of cardiothoracic surgical teams," Tommy's mother Noirin said.
Noirín would eventually have enough on the eight occasion, and it was then, when she took to Facebook to write an open letter to the Minister for Health, Simon Harris.
On January 31, Tommy, a huge Wexford hurling supporter, would eventually have his heart surgery in Crumlin Children's Hospital, where he has remained since.
Wexford Weekly, among others, rallied around a suggestion made by Sprattisms on Facebook. The suggestion, which gained momentum, was that young Tommy Kinsella should be the mascot for the Wexford hurlers for the upcoming Wexford and Kilkenny match in Chadwicks Wexford Park.
Supporters rallied around the idea on social media.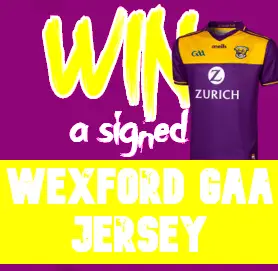 It has now emerged that the Wexford GAA PRO, PJ Howlin, has been in contact with the young boy's parents, who have conifrmed to Wexford Weekly that Tommy will be the mascot on the day of the Wexford-Kilkenny Allianz League hurling match at Chadwicks Wexford Park in two-weeks time.
It just reiterates the importance of support within the local community, the goodness of the GAA, and the power of social media. It's fantastic to see this happen, in what will surely be a memorable and much-deserved day out for the huge Wexford hurling supporter.
Tommy's parents and 'TEAM TOMMY' are raising funds for The Children's Medical and Research Foundation. They are hoping to raise €5,000. To donate, check out the Team Tommy Just Giving page here.
Read Also:
Wexford's Allianz Hurling & Football League Fixtures