'Speedo Mick' is one of Liverpool's most popular men…
From Liverpool, Michael Cullen, famously known as Speedo Mick, has reached Wexford on his 'Stompathon' travels across Ireland.
Speedo Mick is on a 2,000 mile, five-month trek across the UK and Ireland.
Today, Speedo Mick reached Wellingtonbridge in Wexford. He is due to continue walking on his travels to Wexford town tomorrow evening.
"Afternoon gang, another point reached on this Stompathon. Another bed waiting to be slept in too. It's hard graft this plodding about this beautiful country yeno," he said in a social media post.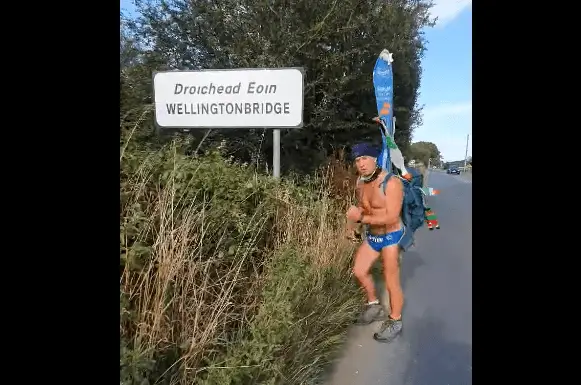 The Liverpudlian has raised over £40,000 for this challenge alone via a GoFundMe with a fundraising goal set for £100,000.
The mission at the SpeedoMick Foundation is to provide support for young people through education, relieving poverty, or the support of mental and physical health.
They aim to support the most vulnerable across communities by showing compassion and understanding and to make what we do inclusive to all. As a charity, they hope to be able to make a positive impact to families individuals and groups in those communities.
Have you seen Speedo Mick around Wexford? If not, keep an eye out for him tomorrow, and if your see him, give him a cheer or a beep of the horn to show your support.
Read also:
We currently have a popular '€30 WW Job Spot' package. Easily submit your advertisement and pay for your 'job spot' ad in one go. Check it out.