Throughout the annals of the history of county Wexford, there are many exemplary instances of heroic sacrifices in service of the cause of liberty, justice, and the Irish Republic…
In the earlier days of British rule within the country following the plantations, there were very few shows of resistance against the occupying force which did not involve the people of Wexford.
The people of Wexford stood steadfast in their resistance to the Cromwellian invasion and the people of Wexford town paid a heavy price for that refusal to bow to Cromwell.
All throughout the county, there are many reminders of the gallantry of the men and women of Wexford as the driving force behind the rebellion of 1798. Even though Wexford was not quite as active in the nationalist rebellions of the 1800s, the strong nationalist tradition never died.
Some may see the enormity of the events of the Easter Rising of 1916 in Dublin and believe Wexford contributed little in comparison. The Rising which occurred in Enniscorthy was dwarfed by the Dublin rising, however it is often forgotten that a Wexford man was at the centre of the Rising in Dublin.
Michael O'Hanrahan, born in the Wexford town of New Ross, fought under Thomas MacDonagh and John MacBride at Jacob's Factory and paid the ultimate penalty for his defiance of British rule. Even within his own county his role is often overlooked and overshadowed by giants of Irish history such as Padraig Pearse or James Connolly, but O'Hanrahan was just as deeply devoted to the Republican cause.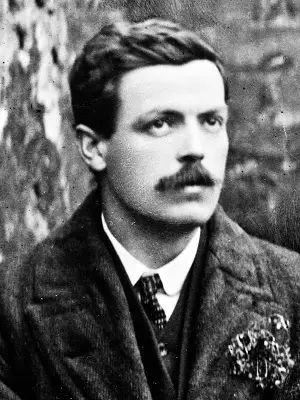 His life was intertwined with nationalist organisations and his life was just as interesting as his more famous comrades with whom he marched out during Easter week of 1916. 
On January 16th 1877, Michael O'Hanrahan was born to Richard and Mary O'Hanrahan (née Williams). Michael was the second son of the O'Hanrahan family with his older brother Henry who was born in 1875.
Henry and Michael would share a very close bond and they would be bound together until the bitter end. Michael also had three sisters and his family was steeped in the republican tradition. Michael had some ancestors who had fought in the rebellion of 1798 and closer to home, Michael's father Richard had been involved in the Fenian Rising of 1867.
Given his roots, it is therefore no surprise that Michael had a deep interest in nationalist affairs. Although born in New Ross, Michael's life in his native county was brief, and aged just four, Michael and his family moved to Tullow Street in the town of Carlow.
Michael's father found employment as a cork cutter in Corcoran's Mineral Factory. Michael had a quiet childhood and received an education at Carlow CBS. He had within him a burning passion for the Irish language and became deeply involved in the promotion of his native language. In the eyes of many, true independence from England meant independence from the language that the English had imposed on the Irish people and the reinstatement of the language English had usurped.
O'Hanrahan was certainly of this view and not only joined the Gaelic League, which was an organisation established for the promotion of Irish culture and especially the Irish language, but he also played a vital role in setting up the first branch of the Gaelic League in Carlow in 1899.
Michael even began to replace the anglicised form of his name with the Irish form, Micheál Ó hAnnracháin. Along with that, he also enjoyed work as a proof-reader for the printers of Gaelic League publications, Cló Cumann. Michael often gave Irish language classes and lectures for the Gaelic League; he was by all accounts an active, enthusiastic and exemplary member of the League.  
However, Michael's nationalist sentiment extended beyond cultural nationalism. It is clear from his actions and allegiances that Michael detested the British occupation of Ireland and desired nothing more than to see it come to an end.
Michael's first notable involvement in nationalist politics came in 1903. Michael O'Hanrahan, along with notable nationalist leaders such as Maud Gonne and Arthur Griffith, opposed the visit of King Edward VII to Ireland.
Even though Ireland had not staged any major militant revolutionary action the constitutional nationalist movement had been slowly establishing itself as the dominant force in Irish politics. Figures such as Daniel O'Connell and Charles Stewart Parnell had made Irish nationalism a force to be reckoned with in Westminster. Talks of a parliament in Dublin (Home Rule) or full blown Irish independence were common among the Irish population.
In an attempt to orchestrate a show of "loyalty" to the King and to the British Empire, King Edward VII visited Ireland. Many nationalists saw through the intentions of the visit and aside from that on principle opposed the visit of the British monarch.
O'Hanrahan began lending his considerable skill as a writer to nationalist publications. He was a regular contributor to Arthur Griffith's newspaper Sinn Féin and to The Irish Volunteer, which was the newspaper of the Irish Volunteers. O'Hanrahan also wrote two historical novels "A Swordsman of the Brigade" (published in 1914) and "When the Normans Came" (published posthumously in 1918).
O'Hanrahan threw himself into nationalist organisations; he joined the Irish Republican Brotherhood and Sinn Féin, serving on the national council of the latter. O'Hanrahan even went on to join the newly formed Irish Volunteers in 1913 to oppose the Ulster Volunteer Force and to ensure that Home Rule was enforced. His siblings followed the same path as he did; Henry involved himself in the Irish Volunteers and his three sisters all joined the women's branch of the Volunteers, Cumann na mBan.  
By 1916, Michael and his brother Henry were working as clerks at the headquarters of the Irish Volunteers at no. 2 Dawson Street in Dublin. Their nationalist activities were well known to such an extent that they were under the surveillance of the Dublin Metropolitan Police.
Michael O'Hanrahan was appointed Quartermaster General of the 2nd Battalion of the Irish Volunteers under Commandant Thomas MacDonagh. MacDonagh and O'Hanrahan were very close friends and apart from their shared command of the 2nd Battalion, they also shared a keen interest in literature.
According to his Court Martial, he had been observed meeting with MacDonagh in Dublin three months before the Rising. Michael was by all accounts a very quiet but sincere character. In her Witness Statement to the Bureau of Military History, his sister Eily made the following remarks about Michael's character: 
"Micheál had an unusually nice character. He was gentle, quiet and unassuming. He was devoted to his home and loved home life, although he was so active in the Gaelic League movement and the Volunteers that he spent a lot of his time away from home"- Eily O'Hanrahan
Michael was one of the most trusted figures in the Volunteers and he was no doubt at the heart of the planning of the 1916 Rising.
Despite the well-documented chaos during the planning stages, on April 23nd Easter Sunday 1916 the Military Council decided that the Rising would go ahead. It was said that Michael was set to be second in command of the 2nd Battalion however that role went to Major John MacBride.
Major MacBride was not trusted by the organisers of the Rising due to his service as a Major in the British army, MacBride was not even aware the Rising was taking place even though he was involved in the Volunteers. MacBridem while out on a walk, encountered MacDonagh and the 2nd Battalion on route to Jacob's Factory on Bishop Street.
MacBride was eager to join them and was made Second in Command. O'Hanrahan, however, retained his role as Quartermaster General and was made Quartermaster in charge of arms. It had been planned that Jacob's Factory would be central to the defence of Dublin, but in reality, trying to reclaim Dublin, the British military targeted more central areas of Dublin.
Volunteers stationed in the factory were pinned down by sniper fire. In the end the 2nd Battalion under Commandant MacDonagh did not have as much of an influence in the Rising as had been planned.
Michael's sister Eily brought many dispatches from Sean MacDiarmada and from Commandant MacDonagh to Wexford.  Michael's brother Henry fought beside him in Jacob's Factory. O'Hanrahan allegedly sustained a concussion during the fighting, however he still had the presence of mind to inform his commanding officer, MacDonagh, that they were boxed in and were inviting a shelling of the factory like the shelling of the General Post Office and Liberty Hall.
Due to the risk that this posed to the men and the local area, O'Hanrahan led a break out of some of the men from the factory to New Bride Street. 
On Sunday the 30th of April, Nurse Elizabeth O'Farrell arrived at Jacob's Factory with news that the rising was over and that Padraig Pearse had issued an order to surrender. The men were split over whether they should obey Pearse's order or whether they should continue the fight. In the midst of this chaos Eamon Price told the Bureau of Military History how O'Hanrahan "In his slow, calm and reasoned tone advised surrender".
The Battalion soon followed their orders and laid down their arms. O'Hanrahan was brought to Richmond Barracks and then transferred to Kilmainham Gaol. Due to the fact that he had played such a prominent role in the Rising, he was hauled before a military court.
It is difficult to say that the court martial was ever going to deliver any form of justice or a fair trial to O'Hanrahan; it would even be fair to say that Michael's fate was decided before the trial even began.
For his role in the rising, Michael O'Hanrahan was sentenced to death by firing squad. His mother and sisters were invited to see him before his execution to say their goodbyes. Fearing arrest, only his sisters Eily and Cis were sent to visit him.
Prior to the execution, Michael also was attended to by Father Augustine. Michael left a lasting impression on Fr. Augustine who summed up his view on Michael in his statement to the Bureau of Military History:
"He was one of the truest and noblest characters that it has ever been my privilege to meet. His last message to me before he went out into the dark corridor that led to the yard where he was shot was: Father, I'd like it if you saw my mother and sisters and consoled them'. I promised him I would, and whispering something in his ear, I grasped the hands that were tied behind his back. In his right he pressed mine most warmly; we exchanged a look, and he went forth to die," it reads.
At dawn on the 4th of April 1916, Michael O'Hanrahan was brought before a firing squad of British soldiers and without mercy he was executed for his role in the Rising aged 39.
William Pearse, Edward Daly and Joseph Mary Plunkett were also executed that day. 16 men would be hauled into that courtyard and shared the same fate as Michael.
Michael O'Hanrahan and other executed leaders were unceremoniously buried in Arbour Hill. The execution of the leaders transformed them from activists to heroes; their executions and their valiant actions during the Rising led to them becoming sources of national inspiration calling the nation to the cause of Irish Independence. 
O'Hanrahan's sacrifice and legacy has been memorialised in various ways. In 1966, Wexford's train station was no longer known as Wexford Railway Station, but it was renamed O'Hanrahan Station. Similarly, the bridge which stretches across the River Barrow at New Ross was named O'Hanrahan Bridge.
However, it is not only places which have taken on Michael's name to honour him. Michael was born in Wexford and no doubt felt a great affinity with his home county, despite spending a large portion of his life in Carlow.
One of the most successful clubs in Carlow, O'Hanrahan's GAA club, was formed in 1919 and named in his honour. Located on the Dublin Road in Carlow town, they have an illustrious and trophy laden history having won 18 Carlow senior football titles. In 2000 they won their greatest honour to date, the Leinster Club Championship. They clashed with the titans of Cork football, Nemo Rangers in the 2000 All Ireland Club Football Semi Final, although it was a tight battle Nemo Rangers progressed. 
In Michael's native town of New Ross, the local GAA club also bears his name. The Geraldine O'Hanrahan's GAA club in New Ross are no strangers to county level success having triumphed in senior hurling and football championships.
Many famous names in Wexford GAA have honed their skills at the club which bears the name of their local hero including Seán O'Kennedy, the late Pat Nolan, and current Wexford senior football manager Shane Roche.  
Although he is often overshadowed, the sacrifice and life of Michael O'Hanrahan will never be forgotten by his compatriots or indeed by the people of his native county. 
Sources used:
Famous Wexford People in History, Des Kiely, Parisfal Press, 2018 
Michael O' Hanrahan – CSO – Central Statistics Office 
Michael O'Hanrahan – 1916 (dit.ie) 
index.pdf (nli.ie) 
Wanna Keep Reading This Content?
Register Now! For as little as €3 annually… 
From December 1st 2021, our columns and improved content will be restricted to Wexford Weekly annual subscribers. By registering, you will have access to all of Wexford Weekly's content and you'll also be supporting a growing independent brand. We thank you for your continued support.  
– Access to all content
– Improved, premium features 
– Discounts on products 
– First to know about future buses 
– Discounts on future events 
For a 3 Euro Subscription, click here. 
For a 6 Euro Subscription, click here. 
Read also:
Remember to submit your news to Wexford Weekly! To advertise on our socials or website, email our team at info@wexfordweekly.com