Leinster U-21 Final – a Classic with Magic
Report by Maria Nolan
Wexford 2-26
Galway 4-21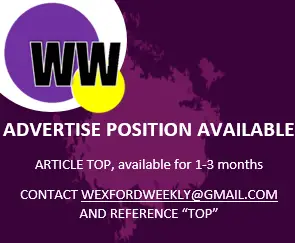 The U-21 Leinster Hurling Final between Wexford and Galway had it all; Thrills, spills, frills. Strikes, skills and scores. An epic that went to extra time in the intensive heat. Heart and passion…and that was only in the stands!
It was a classic with magic.
A most excellent Galway team that began strong and determined looked to be outclassing Wexford in every area of the field, with our hurlers almost living off scraps just to stay in contention. That was until the midway point of the first half, when Wexford seemed to strike a purple patch, putting over seven unanswered points and going in at the break leading the Galwegians by 0-13 to 1-08.
Wexford's gutsy comeback highlighted the fight left in the Boys of Wexford, however, there was still that niggling suspicion that Galway may have just taken their collective foot off the pedal. Amidst the air of thought in the stands, many knew Galway would come out with all guns blazing in the second period and would be a force to be reckoned with.
And they did. But Wexford stuck with them every step of the way. Countless brilliant scores coupled with hard-work, grit and determination instilled belief within the Wexford crowd and players. Fans from both sides had plenty to cheer for, to applaud, and to admire.
One got the feeling that if Wexford kept it up, and if they were within a point or two of Galway in the closing stages, anything could happen.
And it did, in the form of a remarkable last-gasp goal by Ian Carthy to make it a draw at full-time (Wexford 2-20 Galway 3-17).
In hindsight, perhaps the Powers That Be could have considered a replay allowing for the intensively warm conditions we are experiencing at the present time. In fairness, these players had given their all, they were totally exhausted and they deserved a replay.
However, that was not to be, and extra time began with most Wexford people feeling that the strong, physical, fit Galway side might possibly have an advantage here.
But again, that was not the case and in fact, the Model Men showed tremendous determination and heart in the first period, hurling out of their skins to be 3 points up at the break 2-24 to 3-18.
The second period of extra-time began, but fatigue was beginning to show with numerous players picking up injuries and others suffering from cramp. But even then, they continued to hurl with passion, conviction and pride, making us, the fans, believe that a Leinster hurling title was within our grasp.
We could almost feel our hands on that piece of silverware when Rory O'Connor struck the ball over the bar to put us two points in front with only seconds remaining. Rory could too, and his punch in the air with delight summed up the feelings of most Wexford supporters.
But cruelly, with 20 seconds left on the clock, the Galway goal came and dashed our hopes of Leinster glory.
As Galway fans celebrated, then commiserated with us in the realisation that they had indeed been lucky to take this one all we could say was that our players owed us nothing; they had hurled with heart, and left every ounce of blood, sweat and tears on the field of play deserving our pride and respect.
The game owed us nothing – it had had it all – everything that is good about hurling was evident throughout.
It had been an epic battle between two equally good, committed, skilful, hungry and passionate sides.
And we, although bitterly disappointed not to be coming home with the spoils, were proud that the future of Wexford hurling is looking bright.
We'll live on to fight it out against Cork in an All Ireland Semi Final in a few weeks time with nothing to fear!
__
Scorers for Wexford: Seamus Casey 1-11 (0-9f), Rory O'Connor 0-7 (0-2f), Ian Carthy 1-0, Stephen O'Gorman 0-2, Rory Higgins 0-2, Joe O'Connor 0-2, Garry Molloy 0-1, Rowan White 0-1.
Scorers for Galway: Evan Niland 1-7 (0-7f), Tomas Monaghan 1-2,  Kevin Cooney 1-1, Ciaran Fahy 0-5 (0-1 65, 0-1f), Sean Bleahene 1-0, Brian Concannon 0-2, Sean Loftus 0-2, Fintan Burke 0-1, Conor Caulfield 0-1.
Maria Nolan, Wexford Weekly.