Castletown are the new Wexford Senior Football Champions…
The Wexford Senior Football title is heading back to Castletown.
On Sunday, Castletown Liam-Mellows defeated Gusserane on a scoreline of 3-16 to 2-10. Scoring 3-14 from play on a cold October afternoon at Innovate Wexford Park, it always seemed like it was Castletown's day.
One player who was immense throughout, was Man of the Match and Castletown's James Holmes, who scored a cracking six points from play.
Along with Holmes, Wexford inter-county player Johnathan Bealin proved influential for the North Wexford club, scoring 1-06, with 1-04 coming from open play.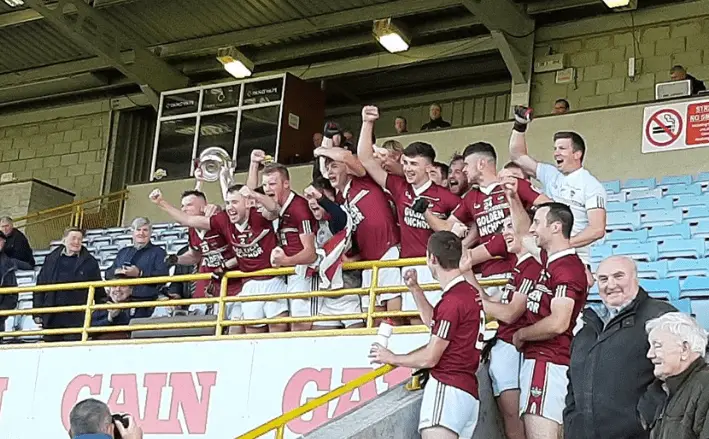 Castletown's victory today marks their first Wexford football title since 2010. Their achievement today places them alongside St John's Volunteers as the club side holding the most Wexford football titles, at eleven each.
Meanwhile, St Annes will face St Martins in the Wexford Senior Hurling final after the Annes defeated the Rapparees and Martins emerged victorious over Ferns St Aidans.
Castletown: Anthony Masterson; Joe Ahern, Danny Gardiner, Frank Roche; Conor Carty (0-1), Colm Morris, Joe Gardiner; Rory Heffernan (0-1), Liam Coleman; Jody O'Shaughnessy, Jonathan Bealin (1-6, 0-2 frees), James Holmes (0-6); Donnacha Holmes (0-1), Ben Brosnan (0-1), Brendan Halpin (capt., 1-0).
Subs: Stephen Moloney for O'Shaughnessy (temp., 12-15); Stephen Moloney for O'Shaughnessy (38); Ross Cody for Aherne (49); Robbie Brooks (1-0) for J Holmes 54); Colin Kennedy for D Holmes (61); Killian Pierce for J Gardiner (62); Richard Farrell for Coleman (62).
Gusserane: Michael Ryan; Jack O'Connor, Gavin Sheehan (1-0), Jack Burford; Adrian Redmond, Mark O'Neill, Graeme Cullen (c); John Roche, Cillian Kehoe; Kenneth Cahill, Sam Wall, Páraic Conway (0-2); Mark Rossiter (0-2), Adrian Flynn (1-3, 0-2 frees), Sean Mini Ryan (0-3).
Subs: Shane Flynn for Adrian Redmond (24); Tom Foran for Kenneth Cahill (38); Shane Cullen for Cillian Kehoe (45); Fintan Ryan for John Roche (54).
Also:
Watch NOW: Castletown Vs Gusserane – Wexford SFC Final
Watch NOW: Ferns Vs St Martins Deferred Coverage
If you're looking to advertise with Wexford Weekly for an unbeatable price, then contact us now at wexfordweekly@gmail.com.