It was expected, but it still felt like a shock to the system. Wexford's loss to All-Ireland champions Galway in front of 14,000 spectators at Wexford Park was a deflating one, to say the least.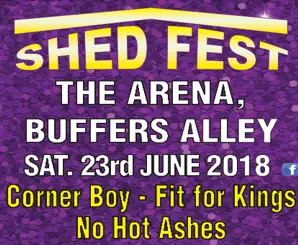 It hurt, but it probably hurt too much considering the extent of what's still at stake.
Technically, we're still in a Leinster semi-final, next Saturday against Cody's Kilkenny in their own backyard. And, that's where we want to be – we want to be competing in Leinster semi-finals, so let's quickly forget about the Galway game – and move on and to challenge for this Leinster title once again.
All is not lost, and Wexford's hurling year is far from over yet.
****
It must be remembered that Galway are the All-Ireland Champions, and they're pretty impressive champions at that. They exerted a similar dominant influence over Kilkenny just last week in their championship round-robin game, an encounter that should be compared with Wexford's dismal performance against the Tribesmen.
Just like Wexford, Kilkenny were dominated by a much better side. The Cats only scored 1-02 from play against Galway, where Wexford scored 0-07 from play against Micháel O'Donoghue's reigning All-Ireland winning side.
While this serves to highlight the elite level Galway are competing at, it also categorises Kilkenny and Wexford into a similar bracket.
They're displaying performances of a similar standard, and despite all the negativity surrounding the looming game against Kilkenny, Wexford have every chance of walking away with a win and a place in the Leinster final for the second-year running.
****
Even though we were rattled by Galway, that game is over and we can't dwell on that. We can't do anything about that now.
Still, though, Wexford manager Davy Fitzgerald persists and feels the need to continuously highlight how his Wexford team are competing three and four weeks on the trot at an elite level.
To me, he's highlighted it too many times. Yes, Davy, we're aware of the fixtures and the unjust scheduling. We have been for months, and like you, we've been aware of the demands placed on inter-county hurlers. But, you're the manager – and you haven't changed the starting team in the previous three championship matches (and for most of the NHL), so I'm sure you're not overly concerned about the squad's fitness levels.
Highlighting an injustice, and laying a foundation for an excuse are two different things. Kilkenny will be our fourth week on the trot, we know that – but forget about it.
Forget about the fact they'll be lying at home watching and waiting, forget that they've had that extra week off, forget the constant negativity leading up to our most important game of the year to date.
"I'm not happy with playing Kilkenny last, I've said this. They get a break the week before it. That's the biggest advantage anyone could ever have."

"Kilkenny will be our fourth week on the trot – and Kilkenny get the break the week before it. I'm not happy about the way it is – and that's being straight. I'm tellin' ya, how am I meant to get them four weeks in a row.

Three would be a massive ask, but to get a fourth one and Kilkenny sitting at home looking at us, I don't agree with that," Fitzgerald said to South East Radio following Wexford's mammoth victory over Offaly.
Similarly, speaking to RTE and The Sunday Game, he further addressed the issue:
"If I was a betting man now and I was going to that game, I would put my house on Kilkenny. You'd never know, we might pull a performance. We'll stick out another 15 and see what the craic is"

"I'm not pointing this out just now. I said it to you from day one that we would struggle in games three and four and that's why I wanted our business done early if we could," Fitzgerald said, speaking to The Sunday Game.
A negative mindset doesn't change anything, and it'll only filter down to the players and supporters. It creates a bad buzz, and it lowers expectation. And while lowering expectation is something you might want, let's not beat behind the bush here.
Even though it's probably in the best interests of these 'mind-games' to place the pressure on Kilkenny, we shouldn't be laying foundations for excuses to fall on. Playing at home in a derby game in a Leinster Championship semi-final, the pressure is already fully on Kilkenny.
But, this isn't a good Kilkenny side, and it wouldn't take a genius to realise that they're beatable either. Realistically, it's probably their worst side in over a decade; a team completely held together by their spine of TJ Reid and Cillian Buckley.
****
As a  Wexford hurling supporter, I'm refusing to buy into all this negativity leading up to the Kilkenny game. We haven't become a bad team overnight, and these players will still feel like they've that upper edge over an untraditional Kilkenny team.
Remember, this Wexford team defeated Kilkenny three times consecutively in 2017/18, in the NHL, the Championship and the Walsh Cup, before losing out their latest encounter to the Cats in the NHL at Wexford Park.
To be fair though, Kilkenny deserved their victory in Wexford Park that day, but it's also game Wexford will take motivation from. They'll be eager to avenge their loss and to re-impress the large and vocal Model County support – to show that they're much better than they were, and to show Kilkenny that Wexford are officially back in business.
We have to remain positive; otherwise, there's no point showing up, and a winnable game is over before it's even started.
****
As mentioned earlier, we haven't turned bad overnight. We're an energetic team consisting of youthful players and budding talent. Most of our team consists of multiple u-21 Leinster Championship winners, where we've often overcome these Kilkenny players.
We won't fear travelling to Nowlan Park, there's no doubt about that.
But, our bigger players need to stand up if we are to stamp our place in Croke Park for a Leinster final date. Chin, Mac, Matt, Rory, every single one of them. We need performances, and now, it's the perfect time to stand up.
And, on the topic of standing up. Let's all get behind this Wexford hurling team and travel in flocks to Nowlan Park next weekend.
We'll need everything to get these lads over the line, let's be the 16th man and certainly, let's remain positive ahead of a must-win, winnable game against our fiercest rivals.
__