The early days of the reign of new manager Darragh Egan have been defined by an exciting and open style of hurling and a renewed enthusiasm about this Wexford team…
Wexford supporters once more find themselves hopeful and optimistic about the season ahead. Part of what has heralded this return of excitement around the Wexford team has been the plethora of young, exciting players being introduced to the squad. Whether against Laois in Rathdowney or Kilkenny in Chadwicks Wexford Park the new additions to the squad have burst onto the scene with great energy and hunger.
They have delivered excellent performances leaving a lasting impression both on the management and the supporters.
One such player is Darragh Carley. Darragh is 18 years of age and is a 6th-year student in Wexford CBS. He has distinguished himself as a hard-working and skilful player with his club Glynn Barntown, with the school team in the CBS and was a part of the extended panel of the Wexford minor team which reached the All-Ireland Minor Hurling Semi-Final in 2019.
Darragh made his debut against Laois in Rathdowney coming on for Crossabeg-Ballymurn man, Paudie Foley in the second-half of the game. He left an impression on the Wexford supporters who had made the journey to Laois as he proved himself to be a pillar of stability and integral to moving the ball from the defence further up the pitch. We caught up with Darragh lately to ask him about his experience on the Wexford panel so far. 
He told us that although he came on in the half-back line in Rathdowney, he feels most comfortable taking on the role of a midfielder. He described Galway player Joe Canning as an "inspiration growing up". He also informed us that he always uses hurls made by Albert Randal he stated "I couldn't recommend him enough, a great man who will always have no problem making me a new hurl when needed".  
The call-up to the intercounty panel can often be a significant experience in the career of any player and Darragh spoke of the disbelief he felt when he was called up to the panel. He told us: 
"I was doing homework funny enough and I received a text from Darragh (Egan) asking would I be interested in going to a trial game in early December. I remember looking at the text and re-reading it several times in shock, to be honest. I couldn't really believe it. I felt I did well in the game and I was asked to go to another trial game the following week, I was delighted. From then on I've been asked to attend the trainings with the senior squad."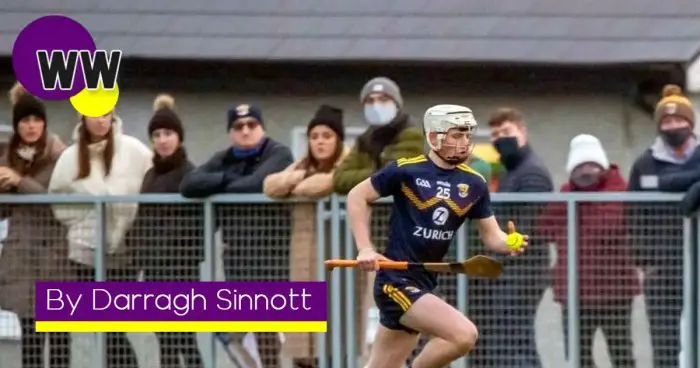 Darragh described the opportunity to represent Wexford as "a great privilege" as he "had always grown up looking at Wexford playing" when he was younger. He went on to describe being asked to train with the senior squad as "an honour". 
Of course, one would have to imagine walking into a senior dressing room as an 18-year-old to be a very intimidating experience. When asked whether the whole experience was nerve-wracking Darragh replied: 
"Yeah, no doubt I was nervous walking into the dressing room for the first time I was wondering to myself what the players would think about me being in there. Luckily there were a few other 20s in there also and that did make me feel more relaxed". 
When asked about how welcoming the other players on the panel have been, Darragh spoke very highly of all his teammates and described a very welcoming panel, he stated: 
"All the players are really approachable and will always communicate with you and will constantly be passing on tips to better my game. Lads like Matt O'Hanlon, Kevin Foley, Simon Donoghue and Rory O'Connor are really good at that". 
Darragh has entered the panel at the very beginning of Darragh Egan's reign and he couldn't speak highly enough of his new manager. He told us:
"Darragh is also really approachable. He will always have time for players to chat to them about training, games and general life. I have great respect for him. In terms of training he is excellent. He has a respect for all panel members and is a great communicator with us younger players," Carley said.
Darragh described the training as "tough" but "also very enjoyable". It is clear there is a very strong bond between the players, Darragh stated "the lads are really good at giving encouragement to each other and especially to the younger lads coming in". 
Darragh told us that the Wexford Senior hurlers train three times per week and for anyone, that is very demanding.
We have to remember though that Darragh is also a 6th-year student, facing into his Leaving Certificate Exams. We asked Darragh how hard it is to keep the balance between training and study, he replied: 
"Trying to balance study for the Leaving Cert and training is difficult because you have to get gym sessions done also and get the recovery sessions in to prevent injury. I made out weekly plans which incorporated my school work and training. Having a weekly plan is hugely beneficial to my everyday lifestyle and it gives good structure". 
Making your inter-county debut is the dream of most young boys and girls across the country when they first grasp a hurl in their hand, very few make it to that stage. Darragh through his perseverance and determination made it to that stage in Rathdowney, County Laois. He conveyed the pride, elation and nervousness which came with making his debut when he stated: 
"Making my debut for the seniors was an unbelievable feeling. When Darragh (Egan) was announcing the 26 man panel the last thing I was expecting was my name to be called out. I was just interested in seeing what the starting team would be, to be honest. I was full of joy when I was called out for the panel. The game was really enjoyable, we played well and there were several new lads who got to make their debut also and did really well."

"I was nervous coming onto the pitch but after I got on my hands on the first ball all the nerves were gone and I just wanted to be wherever the ball was. The lads were constantly communicating with me on the field and it really helped me settle into the game. I am grateful to Darragh (Egan) and the backroom team for giving me that opportunity to make my senior hurling debut for Wexford". 
Of course, for a young player like Darragh, the best of his career is still yet to come. Doubtless, he has many ambitions both on and off the pitch he would like to fulfil. We asked him about those ambitions which he has for the years to come, he told us: 
"The main goal is to play for Wexford for as long as I can really and try win the All-Ireland with Wexford, that's the ultimate goal. I have interests in primary teaching and also sports science after the leaving cert. I would also like to go travel the world at some stage in my life".  
Darragh provided a very clear insight into life as a young player on Darragh Egan's Wexford panel. He showed his love for the game and his pride in representing his county.
Being such a young and skilful player, it is clear there is a bright future ahead of him in the game. Hopefully, we will see much more of Darragh Carley and the Wexford team throughout the year to come. 
Featured Image: Noel Reddy
Read also:
Remember to submit your news to Wexford Weekly! To advertise on our socials or website, email our team at info@wexfordweekly.com