In the opening game of the Allianz Hurling League, Wexford defeated Limerick…
Beating the All-Ireland champions, in our own backyard at Chadwicks Wexford Park, was an ideal start to the year. While it was a low-scoring affair, and it was not the best game to watch, Wexford did come away with the win and the points.
After the thrashing by Dublin in Croke Park one week earlier in the Walsh Cup final, very few people would have expected that result.
Since then, Wexford proved to the doubters that the victory against Limerick was no fluke. This has since been backed up. In their next match, they defeated Clare, a team Wexford has struggled against in recent times, especially in the Championship.
Although one could argue that Clare were without their talisman Tony Kelly for the game, this has to be weighed up against the fact that Wexford were without both Lee Chin and Kevin Foley for that same game.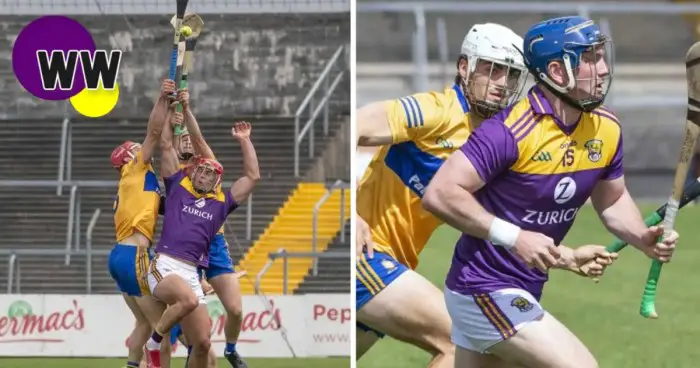 One player who was crucial to that win was St Martins' club-man, Rory O'Connor. Direct-ball was placed into O'Connor and he could not get enough of the ball in the first half, each time looking like a real menace in attack.
In their third game of the NHL, Wexford would face an in-form Galway side. Another away trip ensued. Even though Wexford already had an away trip in the League and came away with the points, few were giving Wexford much of a chance in this game. Galway, too, were in-form, so much so that they have been placed into the All-Ireland contender's discussion already. It wasn't much of a surprise to see Wexford enter the game as 5/2 outsiders for the game, with Galway odds on in the bookies' eyes at 1/3.
Despite the fact that Galway were in form, Wexford were in-form too. Wexford went to Salthill and they came away with the two points. Another strong display by Rory O'Connor in attack, alongside Shane Reck, Damien Reck, Connall Flood, and Oisin Pepper all helped to steer Wexford to the victory.
Although Galway may have been considered the better team going into the game, perhaps that Wexford performance has opened the eyes of a lot of people.
While it was only the third game of the League, three difficult victories against three top teams is nothing to be sniffed at either. In actual fact, the results serve to highlight the reasons to be hopeful for Wexford Senior hurling supporters.
In their fourth game of the campaign, Wexford defeated Offaly in Wexford Park. While it was not the performance that Darragh Egan was searching for, the Yellowbellies came away with the win once more.
In the 2022Allianz National Hurling League, two teams from both Group A and Group B will qualify for the semi-final stages. The top team from Group A will play the runner-up in Group B, and then vice-versa. With Offaly remaining, Wexford's previous results left them primed to make the last four of the National competition.
After the win over Offaly, as many would expect considering Wexford's form and Offaly's lack-lustre displays to date, Wexford have now been guaranteed a semi-final spot. This was helped by Cork's win over Galway on Saturday evening.
Both Wexford and Cork are now guaranteed semi-final spots of the Allianz Hurling League, having both won four out of four games.
In Wexford's final game, they will be playing Cork at home.
The win against Offaly may allow new manager Darragh Egan to rest players leading into the final Cork match. The same could be said for Shane Kingston's side.
On the other hand, it could remain a vital opportunity for him to test out his players against one of the most in-form teams of this league campaign.
While it could be a good idea for Egan to rest players, test out his panel, and give more game-time to panel members, Wexford are a team that thrives off of momentum too. One might pose a question: Why change something that isn't broken?
Fans could argue that Wexford should aim to win every match and by as much as possible, every time.
While this is true, it must be noted that some players, who have not received game-time, would be looking to lay down their marker on the team too. The League has always been a great platform and competition for managers to allow for this.
Speaking after the Offaly game, Darragh Egan also touched on maintaining that level of consistency, no matter who they are, but both Egan and Kingston could have bigger games to play and this will likely be a factor in their team selection on March 20th when the two sides meet in the final League game.
Both Kilkenny and Waterford look to be the top teams on the opposite side of the group. I think, with Wexford in the form that they are in currently, they would not fear any of those teams. Scrap that, I do not think Wexford would currently fear any of those teams on the opposite side. The two teams that Wexford, and their fans, would be half-worried about meeting would have been Limerick and Galway — and Wexford have beaten those already.
There's plenty of reason to be hopeful as a Wexford supporter. While some could argue that we've peaked too soon, there is a strong argument to be made that Wexford are not yet to peak. Perhaps we are just that little bit sharper than other teams right now. With players such as Lee Chin still to receive game-time in the Allianz League, there's a strong case to be made that this Wexford team is going to keep on improving.
It doesn't feel like it's going to be another stagnant year either; the team is showing signs of progression. The likes of Conall Flood, Shane Reck, Paudie Foley and Liam Ryan have been immense and the Wexford backline has not been in real danger yet.
Wexford's attack and the direct high ball into Conor McDonald every so often is like a new gift from God. It was God under Liam Dunne, and to the delight of many Wexford fans, it seems to be back now. There is a sense of anticipation when a high ball goes in on top of him. It's like he's almost expected to catch it, every single time. McDonald's ariel threat will no doubt be a useful chink in Darragh Egan's armour this year, but, as mentioned, he's not the only one who is performing to a high standard this year.
Rory O'Connor is a man possessed and he's getting better. His ability to hit the ball, while soloing and on the run, is something that the opposing defence cannot seem to get a handle on. O'Connor's pinpoint accuracy, while running at full speed from any angle, poses a real threat to any team. It's his best asset and he's utilising it.
Should Wexford continue the form that they're in, they will have one of the best chances in a long time to lift the National Hurling League trophy. The last time Wexford won the Allianz National Hurling League was in 1973.
While some may argue that Wexford should not aim for National League glory, we must pose the simple question: why not?
We are in a position to do it this year.
And while others can point to the fact that it is not the Championship, or that a Leinster Championship would be better, we cannot pick and choose.
The Leinster championship is going to be a tough one either way. Wexford is a team that thrives on momentum and silverware in the National Hurling League could propel them to a new level in the Championship.
As the Championship is relatively close to the conclusion of the League this year, there is a solid argument to be made that Wexford's last match against Cork and the continuation of a good League campaign could work wonders for Darragh Egan as he searches for his best fifteen, while also strengthening the depth of his squad.
With four wins from four, discussions about the 2022 League title coming to Slaneyside are starting to be overheard.
The team is clicking, the defence looks solid, Rory O'Connor is one of the most in-form players in the country, we're more than just a one-trick pony, there's depth to the squad, the players are trying to lay down their marker, we have a new manager who wants to win, and there's enthusiasm around the place for Wexford hurling.
And while it may be 'just the League', there is a National title up for grabs here and Wexford are in strong contention.
Featured Image: Noel Reddy
Register Now! For as little as €3 annually… 
For a €3 Subscription, click here. 
For a €6 Subscription, click here. 
Enjoy our content? Want to keep reading it? By registering, you will have access to all of Wexford Weekly's content and you'll also be supporting a growing independent brand. We thank you for your continued support. It costs less than one cent per day to register on Wexford Weekly. If you value our site, we really appreciate it.
– Access to all content
– Improved, premium features 
– Discounts on products 
– First to know about future buses 
– Discounts on future events 
Read also:
Remember to submit your news to Wexford Weekly! To advertise on our socials or website, email our team at info@wexfordweekly.com