As of late, significant events have dominated the headlines each day…
The war in Ukraine rages on as President Putin's brutal onslaught continues to wreak havoc in Kyiv and Mariupol. The cost of living soar as fuel prices rise rapidly as many people struggle to cope with risings expenses.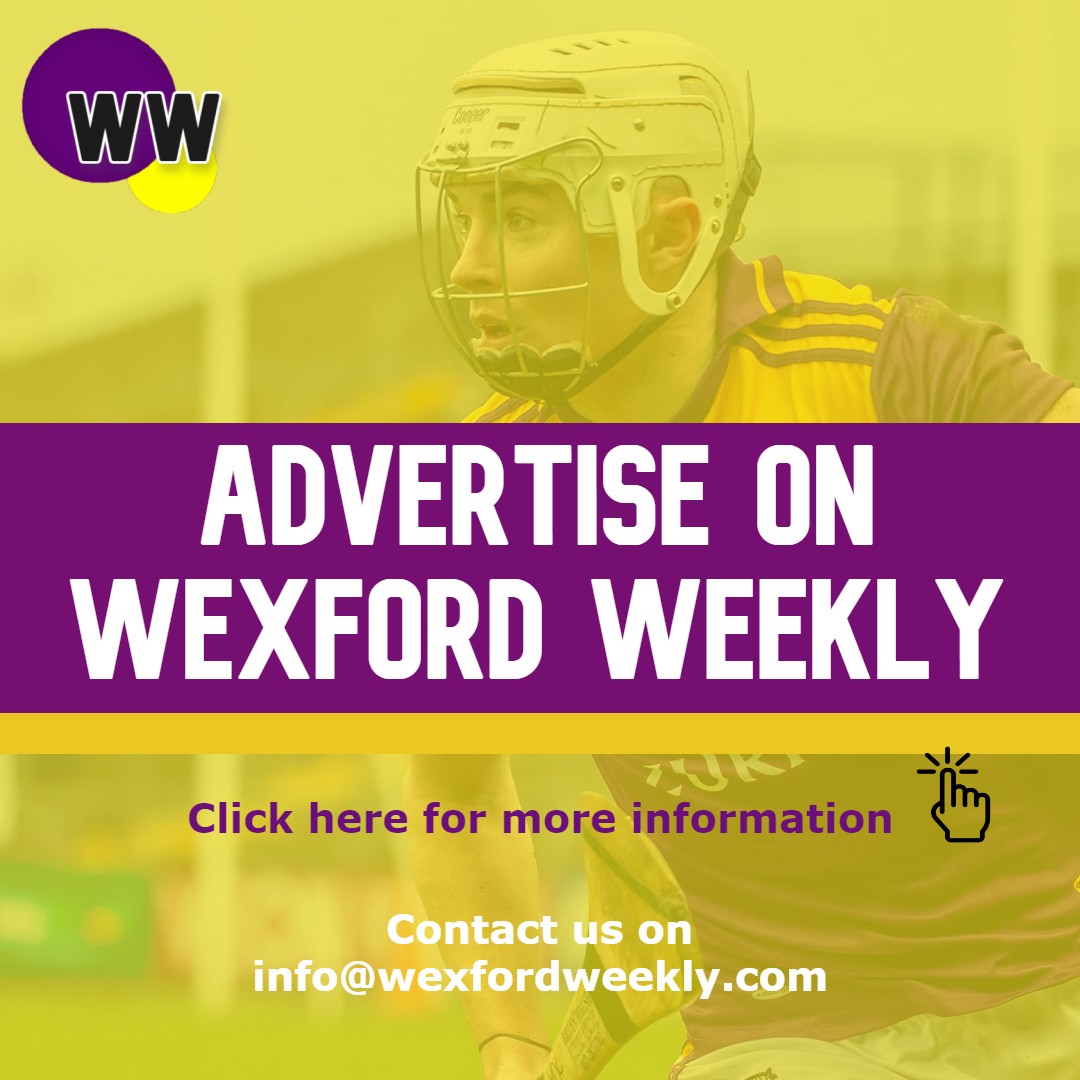 We spoke with Fianna Fáil's Senator Malcolm Byrne. Senator Byrne was elected as a TD in the 2019 by-election having previously served as a councillor.
Senator Byrne has been at the forefront of current events. He has been resolute in his support of Ukraine and met with President Biden as part of St. Patrick's Day festivities.
Malcolm currently sits on the Cultural and Educational Panel in the Seanad. 
COST OF LIVING CRISIS:
Returning to domestic affairs, we asked the Senator about his thoughts on the Cost of Living Crisis:
"The cost of living and inflation is a global challenge, inflation here is 6% in the United States it is now over 8%, so this is a challenge everyone is facing. I don't doubt it is hitting some people harder than others, I know that for people struggling financially it's a really difficult time. The people I am talking with the whole time tell me about this."
The Senator highlighted the effort government had made to tackle the cost of living crisis:
"There has already been about 1.9 Billion in terms of measures to reduce electricity bills, increase in the fuel allowance, these are all things that government has done. Can government do more, yes it can, but at the same time there are a lot of global issues, it would be dishonest to say the government will be able to cushion the blow against price increases for everybody.

Because of the Russian invasion of Ukraine, because of Brexit and because of supply chain issues globally, the government can only do so much to protect people. That's why any of the measures being introduced are being targeted at the most vulnerable, to try to support those who are finding it financially toughest," Malcolm Byrne told Wexford Weekly.
The increase in Carbon Tax by Minister for Transport and Green Party Leader, Eamon Ryan TD in the midst of the cost of living crisis was a controversial move. Senator Byrne stated:
"The reason for the carbon tax or carbon levy is to change behaviours but it is also being used to fund climate mitigations measures such as retrofitting. We have got to do these things in order to fight climate change. The IPCC report highlights the challenges of climate change."

"If we didn't proceed that would only make a difference of not even two cents on a litre of fuel. I am not minimising that but if you got rid of that the funding on retrofitting and all the climate mitigation measures that everyone wants to see happen, that money has to come from somewhere."
NEW LEAVING CERT:
Senator Byrne is known to take a keen interest on educational affairs and as a member of the cultural and educational panel the changes to the Leaving Certificate course would be an issue on which the Senator would be particularly informed. We asked the Senator what were his thoughts on the changes made:
"There are two new subjects which are very welcome, one on climate and sustainability, the other on drama, theatre and film studies. For students who have interest in those areas they're two welcome subjects. They are due to be introduced on a pilot basis from 2024, I hope quite a number of Wexford schools will apply to be pilots for that new programme. I think the Leaving Cert reforms are very student centred, there's a recognition it can't all just be about the Leaving Cert and one big exam in June at the end of 6th Year. It is a much more student centred approach, student's have been consulted in this design and I think in its implementation they will also be consulted"
THE WAR IN UKRAINE:
Senator Byrne has been very vocal in his condemnation of President Putin's invasion of Ukraine and in his support for Ukraine. We asked him about his thoughts on the current situation:
"Ukraine is an independent, democratic sovereign state. It was invaded by Russia in violation of the international order of rules and its territorial sovereignty in line with UN Charters should have been respected by Vladimir Putin and it wasn't. Therefore every possible sanction that needs to be applied against Russia, the aggressor, has to be applied. What's happening at the moment is just disgusting and we have to show solidarity with the Ukrainian people." 
Senator Byrne praised the response of the government and in particular the response of his party colleague, An Taoiseach Micheal Martin in the face of the current situation:
"I certainly think that on a lot of issues Ireland has shown a lead, I think Micheal Martin at EU Council level looked for the toughest level of sanctions as early as possible. We have supported the application of the toughest possible level of sanctions so from that point of view I think the government has shown great leadership. Could more be done? Well, I know at European level there are discussions now about even further sanctions and I think we do need to do that. Russia is now a pariah state and has to be treated as such. That means effectively that it is cut off from the rest of the world until it decides to withdraw from Ukraine."
At the time this interview took place President Zelensky had not yet made his joint address to the houses of the Oireachtas. However Senator Byrne informed us on the role he played in making the address possible.
"I proposed this several weeks ago before the Seanad and then wrote formally to the Oireachtas Committee on procedures and oversight for this to happen so I was quite happy that the houses of the Oireachtas made the arrangements with the Ukranian Embassy."
MEETING PRESIDENT BIDEN:
Remaining on the topic of Foreign Affairs, Senator Byrne met with President Biden on St. Patrick's Day. We asked Senator Byrne how this meeting came about:
"I'm the co-convener of the Ireland-US Parliamentary friendship group. The objective of the Parliamentary Friendship Group is to promote links and discussion of common policy issues between national parliaments. I would link with our counterparts in US Congress and State Houses across the United States. I was in Washington where we had a number of meetings in Congress but then also as part of that I was fortunate for the Saint Patrick's Day events to be invited to the White House and met with President Biden."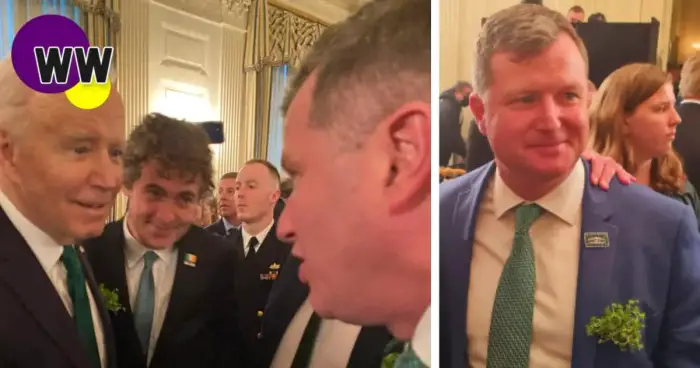 We asked the Senator what was his impression of President Biden and what did they discuss during their brief meeting:
"He (President Biden) is very proud of his Irish Heritage particularily in the context of the Brexit discussions he has been quite strong in ensuring that the Good Friday Agreement is recognised and that any international agreement including the Withdrawal Agreement which the UK and the European Union signed up, that protects the Good Friday Agreement."

"I did get a few minutes to chat with him, my opening remark was about CSC Financials who have an operations base in Gorey but their homebase in the United States is Wilmington, Delaware, which is where President Biden lived before he moved into the White House. He knew the connection then straight away. I also talked about how we need to further enhance economic and educational links. I talked about the growing links between Wexford and Savannah and Georgia Southern University."

"I thanked him for his support during the Brexit issue. He is very much aware of current issues in Ireland and around Brexit. I think a lot of that is informed by his Irish-American heritage of which he is very proud".
Value our site? Register NOW for as little as €3 per-year… 
For a €3 Subscription, click here. 
For a €6 Subscription, click here. 
Enjoy our content? Want to keep reading it? By registering, you will have access to all of Wexford Weekly's content and you'll also be supporting a growing independent brand. We thank you for your continued support. It costs less than one cent per day to register on Wexford Weekly. If you value our site, we really appreciate it.
– Access to all content
– Improved, premium features 
– Discounts on products 
– First to know about future buses 
– Discounts on future events 
Read also:
Remember to submit your news to Wexford Weekly! To advertise on our socials or website, email our team at info@wexfordweekly.com