It's not something you'll see everyday, but this is brilliant…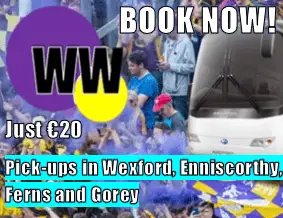 One thing's for sure, Wexford native Mark Kavanagh does not lack creativy.
Currently on a J1 over in Texas, Kavanagh confesses to Wexford Weekly that he's "missing out on the whole Wexford campaign" which saw the Yellowbellies lift the Bob O'Keeffe Cup for the first time since 2004. Despite this, he's taken matters into his own hands to join in on the buzz as Wexford prepare for an eagerly-awaited All-Ireland semi-final clash.
In one of America's renowned Walmart stores, Kavanagh searched for the Liam McCarthy Cup. The Davidstown local captured his journey, and the video of confused Walmart staff trying to help is nothing short of hilarious.
"Those are all coloured cups, but would you have a Liam McCarthy cup? I only need one of them. They're very popular in Wexford; everyone's looking for them."

"It's a special kind of cup I'm looking for…"
Watch the video below, you won't regret it:
Kavanagh, who is a marketing student at the National College of Ireland, can be found on Instagram under the name mark_from_marketing. Do yourself a favour; give him a follow or search for his name to view the whole video of his trip to Walmart.
If you're looking for a bus to Wexford's All-Ireland semi-final, check out Wexford Weekly's Hired Bus To Croke Park, where tickets can be bought for just €20 return with pick-ups in Wexford, Enniscorthy, Ferns and Gorey. Purchase your tickets now, as places are limited.