St Martins face St Annes today at Innovate Wexford Park in the Wexford SHC final…
St Martins have named Rory O'Connor as full-forward, however, his ban was upheld by the Leinster Council and the DRA, so he no longer be playing.
St Martins XV:
1.Luke White, 2.Conor Firman, 3.Joe O'Connor, 4.Mark Maloney, 5.Daithi Waters, 6.Willie Deveraux, 7.Patrick O'Connor, 8.Aaron Maddock, 9.Harry O'Connor, 10.Joe Coleman, 11.Jack O'Connor, 12.Jake Firman, 13.Ciaran Lyng, 14.Rory O'Connor, 15.Mikey Coleman.
St Annes, who've shocked both the Shelmaliers and the Rapparees in their recent championship matches, will be searching for another similar shock today.
St Annes XV:
1.Paul Brennan, 2.Pauric O'Keeffe, 3.Thomas Cullen, 4.Kenny Clooney, 5.Kevin Whelan, 6.Aaron Craig, 7.Mikey Fogarty, 8.Dee O'Keeffee, 9.Aidan Rochford, 10.Liam Rochford, 11.Mark Furlong, 12.Liam OgMcGovern, 13.Darragh Furlong, 14.Red Barry, 15.Johnathan Fogarty.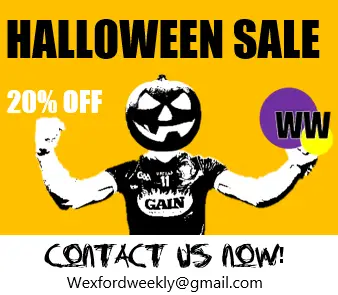 If you're looking to advertise with Wexford Weekly for an unbeatable price, then contact us now at wexfordweekly@gmail.com.