We left this article to one of the experts. Here, Wexford-man and keen traveller Tony Smith discusses his top seven gems located in county Wexford…
Number 7: The Rocks, Maudlintown 
Trespan Rock, which is more commonly known as "The Rocks", is located in the south of Wexford Town between the Faythe and Maudlintown in the heart of Wexford Town.
It was once a blackspot for anti-social behaviour, but over the past number of  years its regeneration has led to uncovering a gem which boasts spectacular views of not only St. Mary's Maudlintown's GAA pitch, which is embedded into the quartzite rocks, but also over Wexford town. 
Number 6: Edenvale
Edenvale, which is located approximately 1km outside of Castlebridge in Wexford, is a forested area which the River Sow runs through.
It has a flat winding 2.5km trail which runs parallel to the River leading to the constant calming sound of running water. Hidden in amongst giant trees, Edenvale is also home to beautiful waterfalls, small streams and old ruins.
On a good day, you will find anything from dog walkers, to fishermen, to locals, all enjoying swimming in this incredible spot which up until recently was not even located on Google Maps. Tranquillity personified and it's only a 10 minute drive from Wexford Town.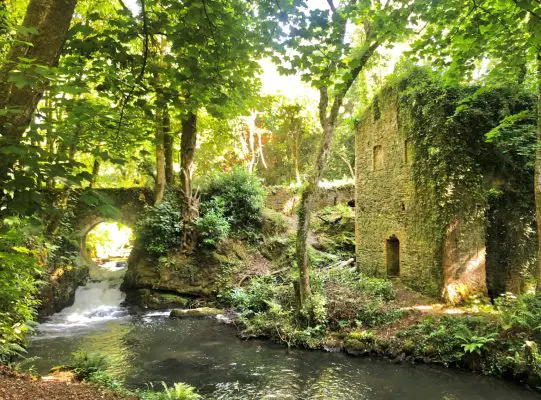 Number 5: Johnstown Castle
Johnstown Castle, which is located in the south of Wexford between Piercestown and Murntown, is approximately 10km outside Wexford Town and is definitely one of the most underappreciated locations in the county.
It's walled gardens, sculptures and scenic walks around the large lake all compliment this 19th century castle. The investment into Johnstown Castle in 2019 has improved the experience to no end with guided tours now being made available and the Irish agricultural museum being enhanced. This has led to Johnstown Castle becoming an excellent location for a family day out, meeting friends or just relaxing and taking in the setting on your own.
Number 4: Sunrise at the Raven Point, Curracloe.
Although Curracloe beach is widely regarded as one of the best beaches in Ireland, The Raven Point no more than two minutes down the road provides an even more incredible spectacle.
The trail through the very large mostly pine forest is about 5km in length and leads you to an open plain which on a sunny day is reminiscent of an African savannah. This large wooded area which was planted in the 1930s to slow down coastal erosion and protect the slob lands also provides the perfect backdrop to catch one of the best sunrises anywhere in Ireland. The beach is east facing, and so when the skies are clear, you can relax in this amazingly scenic location and watch the sun rise over the water in the horizon.
Number 3: Carrigfoyle Quarry, Barntown.
Carrigfoyle quarry better known as Barntown Quarry is well known amongst locals and is another hidden gem for visitors to Wexford.
This Quarry is located only ten minutes from Wexford Town. This once was a functioning quarry which was used to produce quartzite aggregate, which is often used to strengthen composite materials such as concrete — however, the true beauty of this area has only been uncovered since the quarry was abandoned.
Rainwater began to pool, and ground water seeped in and this has led to the formation of a man-made quarry lake, this lake is surrounded by a forest and steep cliffs and the colour of the quartzite makes it look exotic. The tall cliffs provide an excellent vantage point to look out over the vast country landscape and take in an unbelievable sunset.
Carrigfoyle Quarry is the highlight of the many interesting spots along Wexford's new three rocks trail and is definitely not to be missed when visiting Wexford. This quarry, despite its beauty, is also dangerous and those visiting are advised not to swim here as the quarry water can be unpredictable.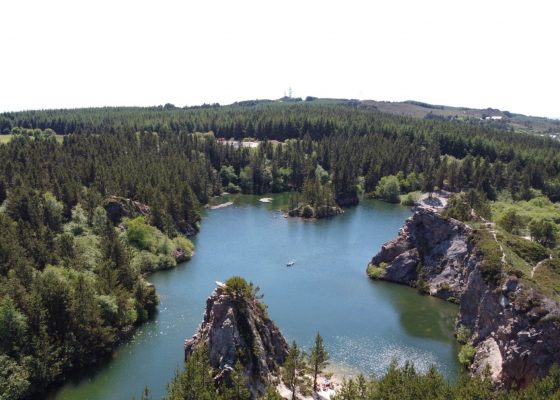 Number 2: Ballytiege Burrow
Ballytiege Burrow, located in Kilmore Quay, is very much one of Wexford's must under appreciated beaches. Perfectly located, just minutes from the village of Kilmore Quay, this beach is perfectly located to finish off an incredible day of activities in the area.
After getting breakfast in Karoo Farm shop in Killinick on your way to Kilmore Quay this would leave you fully fuelled to catch the 11 o clock ferry to the Saltee islands where you can spend the day adventuring the island.
On your return to Kilmore Quay, it is essential you take a trip to The Little Saltee Chipper which won "Best fish and chips in Ireland" in the 2019 YesChef Irish takeaway awards.
To finish off an incredible day in the area, the Balltiege Burrow provides one of the best sunset locations in Wexford. Its dune system and its bowl shape all add to the spectacle of the sun setting over the horizon to the west and its for these reasons that it is the fitting end to an incredible day of adventuring in the Kilmore Quay area.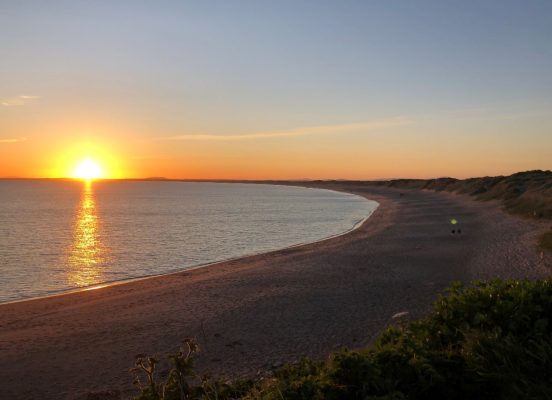 Number one: Baginbun Beach
Baginbun Beach is definitely a hidden gem in Wexford that must be visited. This sheltered cove is located outside the quaint village of Fethard on-Sea and only minutes away from both Loftus Hall and The Hook Lighthouse.
A 19th century Martello tower provides overwatch to this picturesque beach. Baginbun's lovely yellow sand and crystal-clear blue water, definitely gives this location a tropical feeling. This beach is also home to the best outdoor activity which is currently available in Wexford which is hosted by The Irish Experience.
This enables visitors to not only kayak along the calm waters of Baginbun Bay, but also explore different spectacular alcoves, tunnels and sea caves. This experience takes you from Baginbun Beach over to the equally impressive Carnivan Beach and back stopping along the way to explore. This definitely is the best way to enjoy this amazing beach and get a real feel for how unbelievable The Hook Peninsula really is.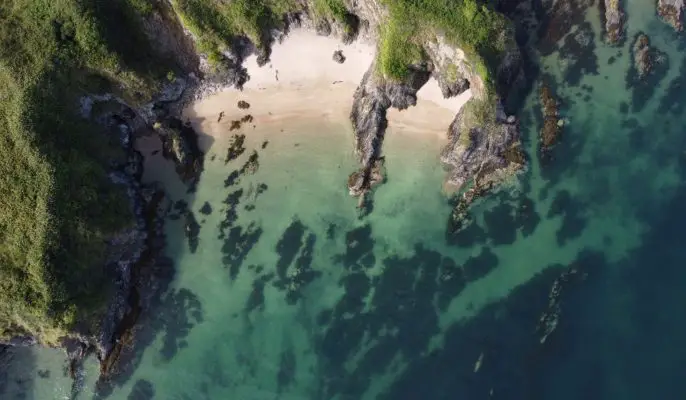 For more of Tony Travels, visit his Instagram here at TonyTravels10_
If you're looking to advertise on Wexford Weekly, please check out our advertising rates here & then drop us an email.
Register Now! For as little as €3 annually…
Soon, some of our content will be restricted. By registering, you will have access to all of Wexford Weekly's content and you'll also be supporting a growing independent brand. We thank you for your continued support.  
– Access to all content
– Improved, premium features 
– Discounts on products 
– First to know about future buses 
– Discounts on future events 
For a 3 Euro Subscription, click here. 
For a 6 Euro Subscription, click here. 
---
---