It has been an unbelievable week for Wexford native, Foster Horan, who can now proudly call himself an Olympic athlete…
Athletics, swimming, and boxing are sports that Ireland usually does well in at the Olympics. The likes of Sonia O'Sullivan, Michelle Smith, and Katie Taylor are quite familiar names who do not need any introduction to Irish people due to their Olympic successes.
Another sport that Irish people will be following closely at this year's Tokyo Olympics is Rugby. Across the world, Ireland are traditionally known for their strong position in World Rugby, specifically their 15-a-side teams.
Now, there is a new team to support after the Irish Rugby 7's recently made history following their qualification for the Olympic Games in Tokyo for the very first time.
One of the core members on that team is former Gorey Rugby FC player, Foster Horan. Horan, who is a proud Wexford native, is from Tombrack, just outside Ferns in Wexford.
He has played a lot of rugby growing up in Gorey with the local side, while his family are also from around the Gorey area.
There is no doubt that Ireland's recent Olympic qualification for the Rugby 7's will do wonders for the sport.
Unlike the Southern Hemisphere teams like New Zealand or Fiji, Rugby 7's is not as big in Ireland, but Horan believes that this will "push the sport to a place that it has never been before."
It's a known fact that both Irish people and Wexford people love to get behind their own. As a Wexford native, he has received a lot of support from the Wexford people and beyond over the last few days.
"I love spending time down in Wexford. I'd be home there every weekend that I'd get the chance."

"From lads that I played mini's rugby, to even lads I went to primary school with and everything. All the way up along, people have been writing messages. I've got hundreds and hundreds of messages on Instagram and WhatsApp. The support has been crazy, it has been immense, and I'm still pinching myself thinking that we're actually going to the Olympics," Horan said.
To think that 7's only started in Ireland in 2015 serves to highlight even further the extent of the team's achievement. While Horan admits that it still "hasn't sunk in yet," in true Irish fashion, the team made sure to enjoy and appreciate every moment of it.
"We were staying in Monaco and we had our own floor in the hotel. With Covid-19 restrictions, it worked out really well because we had our whole group together there on the one floor in the lobby. We had a few beers and a few glasses of champagne. It was actually nice because we just got to sit down, go over the whole weekend, go over how much work we've all put in over the last couple of years, and look at how the programme has evolved over time. It was unbelievable."
They arrived back in Ireland on Monday at around 12 o'clock, but the celebrations did not stop then. Team member, Jack Kelly, hosted a barbeque for the team at his house in Dublin.
"He had all the team over, the lads' girlfriends, family, and we had a barbeque and a good few drinks. The celebrations have been unreal, and everyone is just over the moon. It has been unreal the last couple of days."
The team did not celebrate just for the sake of celebrating though. They all can now proudly call themselves Olympians. Becoming an Olympian is the stuff of dreams; when the Olympics are on every four years, young sportspeople from across the world dream of being there someday, representing their country.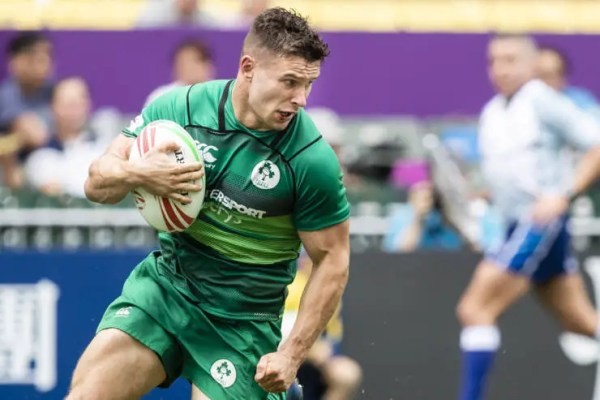 That has now come true for Foster Horan, who looks forward to the Olympics. Ever since he started with the Ireland 7's programme in 2015, it was something that he dreamed of achieving too. The achievement is made all the sweeter knowing that their initial goal to qualify for the Rio Olympics back in 2016 "fell short in the same tournament in Monaco."
"It's unbelievable, all the lads are over the moon. I don't think it has fully sunk in. We've been working so hard with limited resources. Each year we've stepped it up. We started off in Division 3 of Rugby Europe, went all the way up along, won Hong Kong, got into the World Series, went to a World Cup, and then the next thing was the Olympics. It's unbelievable and even hard to put into words to say that we're now going to the Olympics as a group."

"For sure, it was definitely something I was thinking of. You'd be dreaming of going to the Olympics; it's the biggest sporting event in the world and everyone is going to be watching. I'm still pinching myself here thinking about it, and I can't wait to get going."
In our Zoom interview, he highlights that, as a group, they really wanted it. The Irish Rugby 7's are a tight-knit group, but their Olympic qualification dream wasn't achieved easily. Horan understands the extent of the sacrifices that have been made, not just by him, not just the team, but beyond that too.
"We all work so hard for each other. It's a credit to the boys. Each player has his own story, and how much they've had had to sacrifice. Through us as a group and our families, they've really helped us to get to where we are now. I've been dreaming of this day for a long time, and it's just great like."
Horan points me towards Billy Dardis' post-match interview, the team's captain, and notes how his comments on how much they sacrificed resonated with him.
The Olympic Men's Rugby Sevens competition will take place from 26-28 July, with all the action taking place at Tokyo Stadium, which hosted the opening match of Rugby World Cup 2019. They've come so far in such a short space of time, but they're not stopping yet.
"I could tell back in 2015, when I came in, the quality that we had. I'd back this group all the way to push for a podium finish. That's pretty much where we're at," Horan remarked.
Given the meteoric rise of Ireland's Rugby 7's, nothing would surprise us anymore. One thing is for sure though, this team will be backed all the way — and whatever happens at the Olympics, Rugby 7's in Ireland will never be the same again.
Read also:
Error, group does not exist! Check your syntax! (ID: 1)
To submit your news for publication, click here. To advertise with us, check out our advertising rates here.