Over the course of the last week, we asked our followers to engage in a social media poll to find out once and for all the best pubs across County Wexford…
Close to 700 people voted in the poll, and as planned, the pub mentioned the most has secured the number one spot on this article and crowned with the illustrious title as the best pub in county Wexford as voted by Wexford Weekly readers.
With the pubs due to reopen on July 5th when the Covid-19 restrictions lift further, we decided to give all pubs across Wexford a fair chance at some much-needed free publicity on our platform.
So, without further ado, the Top 10 Wexford Pubs list is as follows:
10 The Vine Cottage, New Ross
Although it looks small in stature, The Vine Cottage in the Saltmills area of New Ross is a pub that has made quite a big impact on Wexford Weekly readers. The Vine Cottage also has a spacious beer garden out the back, and previously, it was voted second on the list of the Top 10 Beer Gardens in Wexford.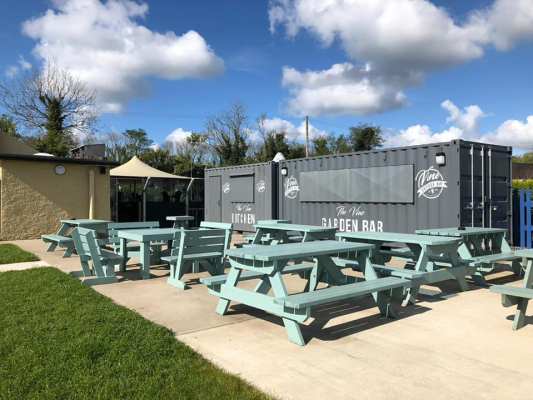 9 Simon Lamberts & Sons, Wexford
Simon Lamberts & Sons pub is located in the heart of Wexford town based on Wexford's main street. As can be seen from the picture below, it boasts an iconic traditional Irish pub look and feel. The lively gastropub is in business for over fifty years, so they're clearly doing something right.
8 The Sky & The Ground, Wexford
The Sky & The Ground is another pub based in the heart of Wexford town on the town's main street. The family-run Sky And The Ground is a traditional pub with plenty of character and a lively atmosphere.
7 Bob's Bar, The Ballagh
Bob's Bar in the Ballagh, which is a family-run bar opened in 1917, has secured the number seven spot on Wexford's Top 10 Best Pubs. During normal non-Covid restricting times, live music is played every second weekend. They also have a function room, a pool table, and a newly renovated beer garden for all to enjoy. An array of tasty platters, pizzas, and desserts can also be enjoyed here.
6 Jack's Tavern, Camolin
The family-run Jack's Tavern in Camolin has a spacious indoor lounge, while their newly renovated outdoor dining area is a sight to behold.
5 Molloy's Bar, Fethard
Molloy's Bar is located in the South of Wexford in Fethard on Sea. They're a friendly local bar that "welcomes all walks of life" from tourists to locals. Molloy's Bar is a family-run business that strives for "excellence". Clearly, their customers believe they're doing this too as they deemed it necessary to vote for them on the Top 10 Wexford Pubs poll.
4 The Coal Bunker, Drinagh
The Coal Bunker is located in the Drinagh area of Wexford. Just like some of the other pubs, they've recently renovated their outdoor dining area which has made a lasting impression on their customers. Here, bar food is served all day, while extensive beer, whiskey, and gin menus are also available. Sit down, relax, and watch any number of the TVs located across the bar that more than likely will be broadcasting an array of sports.
3 The Swan Bar, The Faythe
The Swan received 48 individual votes on the Wexford Weekly poll for Wexford's Top 10 Best Pubs. Interestingly, The Swan Bar also made our list for the Top 10 Beer Gardens in Wexford, highlighting how this pub really is an all-rounder.
2 Foley's of Newbawn
Foley's of Newbawn was another popular choice for Wexford Weekly readers. They received 59 individual votes in our recent Facebook poll. Just like The Swan Bar as mentioned above, Foley's of Newbawn hosts a top-class beer garden and it was recently voted as having the fourth-best beer garden in Wexford. Their indoor area is just as good though. It has a modern look to it, but with a fire pit and some comfy chairs, it looks to be a perfect place to relax and enjoy a nice cold pint.
1 Quigley's Bar, Kilmore
Quigley's Bar received approximately one in every six votes on the Wexford Weekly poll for Wexford's Top 10 Best Pubs. The Kilmore pub powered home to secure the illustrious number one spot. Quigley's pub in Kilmore will be looking forward to hosting some of Wexford's best musicians again. Their outdoor area has a modern look, while a lovely, friendly atmosphere can be felt throughout.
Thank you to everyone who engaged in the poll.
If you enjoyed reading this article, check out our other related article entitled 'The Best Beer Gardens in Wexford', which was also voted by the Wexford Weekly online community.
Read also:
Error, group does not exist! Check your syntax! (ID: 1)
To submit your news for publication, click here. To advertise with us, check out our advertising rates here.