A couple of days have passed and the dust has somewhat settled since Wexford's heroics in Wexford Park…
Wexford needed a win against Kilkenny on the final day of the round-robin to avoid relegation to the Joe McDonagh Cup for 2024.
While Wexford did attain a two-point win, questions are still posed about Wexford's performances throughout the Allianz League and the Leinster Championship. Even though Wexford did win, some supporters would be quick to point out that it only paints over the cracks regarding the problems with Wexford hurling.
After the Dublin and Westmeath games, there were calls for Wexford GAA to seek a new Wexford Senior hurling manager. Following the Westmeath game, Wexford Chairman Micháel Martin stated that the year would be reviewed in due course.
Darragh Egan
Although there are supporters calling for his removal, there are definitely Wexford supporters out there who believe that Darragh Egan deserves another crack at it. He was initially given a two-year term with the Wexford Senior Hurlers, but that term has come to its conclusion now. There's no doubt that he finished on a high note with the Wexford Senior hurlers and there's no doubt that he would still believe that he has more to offer as Wexford Senior hurling manager. In the Kilkenny post-match interview, he sounded like a man thirsty for more, highlighting the "bond" that he has with the group of players.
In 2022, Wexford narrowly lost out to Clare in the All-Ireland quarter-final, while they had an excellent League campaign. In 2023, Wexford had quite a miserable League and Championship campaign, barely surviving the drop to the Joe McDonagh Cup. Egan did not have a lucky year in terms of injuries though, missing main players throughout both the League and Championship campaign. Although there are calls for his removal, it must be noted that the Wexford GAA Board believed that he was the most suitable candidate two years ago. The question is now, is he still suitable?
Tom Mullaly
Mullaly was a name mentioned by Wexford hurling supporters as one to go after. Mulally has been involved with Wexford teams before, most notably in 2018 when he guided the Wexford u21s to a Leinster final, only to cruelly lose that game after extra time by a last-minute Galway goal. On that team included the likes of Rory O'Connor, Damien Reck, Shane Reck, Joe O'Connor, Ian Carty, Oisin Foley, and Mikey Dwyer to name just a few from the current crop of Wexford Senior hurlers.
He has also guided Mount Leinster Rangers to success in their club championship, while his most notable achievement was guiding Clara to Kilkenny Senior hurling success, the first in almost three decades. Mullaly, who is a native of Glenmore in Kilkenny, was mentioned even more when Carlow defeated Offaly to become Joe McDonagh champions this year. It would be interesting to see if Mullaly could be poached to become the new Wexford manager, despite guiding Carlow into the Leinster Championship for 2023.
Joe Fortune
Fortune, who is a native of Wexford, has also been involved in the managerial front in recent years. He was involved in the Wexford u21 set-up in 2020. He guided the Dublin minor and u21 hurlers to Leinster titles in 2016 and 2017, as well as spending time with Ballyboden St Enda's, where the south Dublin club claimed a county title in 2018. Fortune is the Westmeath Senior hurling manager currently, and over the last number of years, he has inflicted pain on Wexford.
Last year in the Championship, he managed to guide Westmeath to a draw against Wexford. This year, he did one better, guiding his team to glory against Wexford in Wexford Park, despite being 17 points down at half-time. Although Wexford supporters are quick to point the finger at the County Board to get Joe Fortune, he did not manage to guide Westmeath to victory over Antrim, they've shipped a good few big beatings this year – and they have been relegated as a result. On the contrary, perhaps with Westmeath's relegation to the Joe McDonagh Cup, it could be the perfect time to poach him back to Wexford.
Keith Rossiter
One strongly talked about name is Keith Rossiter. Rossiter, who was one of Wexford's most consistent hurlers for over a decade, is now plying his trade at management. He is the current Wexford u20 hurling manager, and he helped to steer the u20s to two Leinster finals in a row, in 2022 and 2023, losing narrowly in both, to Kilkenny and Offaly respectively. For some Wexford supporters, it's somewhat concerning to label Rossiter as the man to get considering he has not brought back the silverware which Wexford hurling fans are so desperately craving.
While Rossiter has also been involved with the club scene in the Wexford Championship, some could argue that the time for Rossi is not now – and that Wexford needs a more experienced man on the sideline. Others would argue that he's aware of the players coming through and that Wexford should start to draft more youngsters into the panel, and that he's the perfect man to do it.
Declan Ruth / Adrian Fenlon
The duo of Declan Ruth and Adrian Fenlon has also crossed the minds of Wexford hurling supporters. Interestingly, when one of these names is mentioned, the other is mentioned almost in unison. If Wexford are to get Skippy involved, fans do unanimously think that Fenlon should be involved too. Fenlon will soon chair the committee to review Wexford hurling, and perhaps he will look to his club mate, Ruth, to steer the Wexford Senior hurlers in the right direction following the review.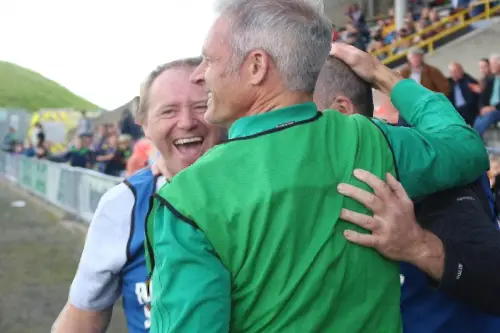 Ruth has been the manager of his club team, the Rapparees, and he led his club side to Senior hurling championship glory for the first time in 43 years back in 2021. The Rapparees duo fit a lot of boxes for Wexford hurling supporters, with many supporters calling for passionate Wexford natives with Wexford hurling at their hearts to come to the fore of the management team.
Paul Carley
Paul Carley's name also ticks a lot of boxes. Carley has been involved with Wexford minor and u-20 setups in the past. In more recent years, he has been involved as manager of Passage East in Waterford and Bray Emmets in Wicklow. Just last year, the Glynn-Barntown man and former Wexford hurler helped to guide Bray Emmets to Senior hurling success in Wicklow and he followed that up by steering them to Leinster Intermediate Club success. For this year's club championship, he's also tasked with the duty of promoting Buffers Alley back to the Senior ranks of the Wexford Senior hurling Championship, while also continuing to hold to reigns with Bray Emmets.
_
Whether Wexford will stick with Darragh Egan or if they'll seek a new manager for 2024 remains to be seen. One way or another, the Wexford Senior hurling manager for 2024 will need to do better than 2023 and the priority should be to get Wexford hurling consistently: Wexford's performance against Kilkenny in the final game of the Leinster Senior hurling championship when their backs were against the wall showed that they do have the players; they didn't turn into a bad team overnight, they have the hurlers, and that they can perform.
Value our site? Register NOW for as little as €3 per-year… 
For a €3 Subscription, click here. 
For a €6 Subscription, click here. 
Enjoy our content? Want to keep reading it? By registering, you will have access to all of Wexford Weekly's content and you'll also be supporting a growing independent brand. We thank you for your continued support. It costs less than one cent per day to register on Wexford Weekly. If you value our site, we really appreciate it.
– Access to all content
– Improved, premium features 
– Discounts on products 
– First to know about future buses 
– Discounts on future events 
Read also:
Remember to submit your news to Wexford Weekly! To advertise on our socials or website, email our team at info@wexfordweekly.com